Call for teachers to teach longer to ease 'brutal' cuts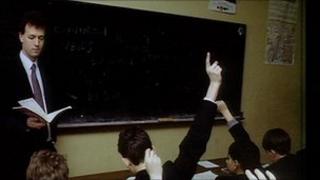 Teachers should spend longer in the classroom to help ease the impact of "brutal" cuts, the head of Scotland's largest council has urged.
Gordon Matheson, leader of Glasgow City Council, wants teachers to spend 30 minutes more a day on classes, taking the time out of their preparation time.
Teachers work 35 hours, with 22.5 hours spent teaching, under the current deal.
Mr Matheson wants ministers to reopen pay and condition talks but the Scottish government ruled out changes.
The McCrone deal, agreed in 2001 between councils and teaching unions, guaranteed teachers more than 12 hours a week to spend marking and preparing lessons in school.
But Mr Matheson said: "We are facing brutal cuts to frontline services.
"I respect the professionalism and hard work of teachers, but we are in an unprecedented situation where we face brutal choices and I believe this is a reasonable request to make, which would still leave sufficient time for preparation.
"The options in front of us are not only politically very difficult, but threaten the quality of teaching and learning in our schools. This is one way we could offset those cuts."
Teachers' terms and conditions are agreed nationally so any change would affect the whole country.
Education Secretary Mike Russell said it was essential teachers were "fully supported and prepared".
He added: "Excellent education needs excellent teaching.
"Glasgow has already shed more than 500 teachers over the past two years and the current financial challenges should not mean we lose sight of the longer-term improvements we want to see delivered in education."
Teaching union the EIS also dismissed the proposals.
General secretary Ronnie Smith said: "Adopting a bean-counting approach, which concentrates on balancing the books above all else, will inevitably lead to a diminution of the high-quality education that our young people have the right to expect."
Jane Peckham, Scotland organiser for the NASUWT union, added: "Once again it is the public services, in this instance teachers, who are supposed to suffer in order to provide a solution to budgetary problems that were not of their making."