Frank Chickens win 'Comedy God' award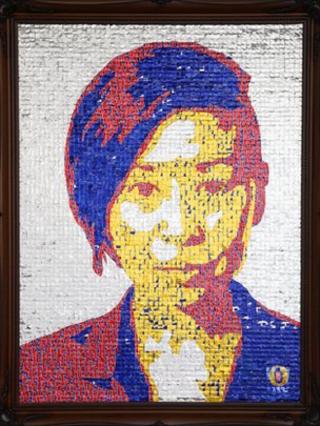 Little-known Japanese performance art troupe Frank Chickens have won an online poll to find a Comedy God.
Beer brand Foster's, which now sponsors the Edinburgh Comedy Awards, arranged the public vote to find a favourite from all the acts of the past 30 years.
Frank Chickens, who were nominated in 1985 but had not played in Edinburgh since, were backed by comedian Stewart Lee, who instigated a viral campaign.
Michael McIntyre, Tim Minchin and Russell Howard were runners-up.
The four winners were commemorated with a series of framed portraits made entirely from empty Foster's cans.
Edinburgh veteran Stewart Lee, who has been appearing on the Fringe since 1987, launched a rant against the Comedy God award poll last month.
He said the Fringe should be about "art for art's sake".
"It should not be about attaching a brand to a high-profile celebrity," he said.
But Lee, who as the writer of Jerry Springer The Opera is used to controversy, said he did not intend to launch a campaign.
He said: "I literally sent one e-mail when I was annoyed by the competition.
"I don't have a twitter account or blog or anything like that.
"Then it kicked off and thousands of people have been voting for Frank Chickens as all-time comedy god."
Kazuko Hohki, lead member of Frank Chickens, told BBC Scotland she was "amused" by all the attention.
She said the group, which currently has 14 members, was a collection of Japanese "misfits" who sought her out in London.
Hohki said she did not understand stand-up comedy, mainly because her English language skills were not good enough to listen to someone talking for an hour.
She said Frank Chickens were not comedians, they were a band of performance artists.
Organisers of the Comedy God award said the British public had "showed its humorous side" by voting for Frank Chickens.
Nica Burns, director of the Edinburgh Comedy Awards, said: "The public poll has given comedy fans a lot of summer fun."