Scottish police cuts 'could see 2,800 officers go'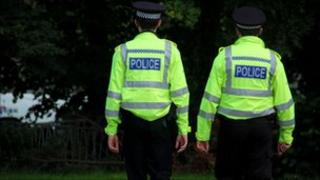 Scotland's police forces could be cut by more than 2,800 officers if projected budget cuts go ahead, according to the main police union.
The Scottish Police Federation said that in some force areas this would mean police numbers dropping to levels not seen since the 1990s.
The federation claimed to have seen a document predicting a loss of £88m from budgets in the year beginning in April.
The union warned that cuts of these scales would lead to increased crime.
The Scottish government said it had overseen record investment in policing while Labour accused them of failing to protect frontline services.
Chief constables across Scotland have individually been warning of the financial problems ahead.
Strathclyde Police has already said it plans to cut 200 officer posts through early retirement as well as inviting all of its civilian staff to apply for voluntary redundancy.
Central Scotland Police aims to cut 194 police posts over the next four years to save money.
Crime levels
The Scottish Police Federation calculated that the £88m figure it had seen would be equivalent to 2,808 officers, out of a Scotland-wide total of 17,409.
Les Gray, the federation chairman, said the police service was working on the assumption of reduced budgets of up to 24% over the next four years.
He said: "The public have a right to feel safe and protected. Reductions of this scale would inevitably impact on crime levels and crime detection levels.
"The service is effectively being asked to provide 21st Century policing with 1990s resources.
"Put simply, taking 2,808 officers out of the service is the combined equivalent of losing virtually the entire forces from Central, Tayside and Northern."
A Scottish government spokeswoman said police had been given record funds of £1.4bn this year - a 20% rise since 2006-7.
She said: "Scotland's budget is forecast to shrink by £3.7bn in real terms over the next four years, and our priority is protecting frontline services."
The spokeswoman added: "The recruitment of more than 1,000 additional police officers has been a real achievement by this government.
"We have provided forces with additional resources to maintain these record high numbers and we fully expect that to continue to be delivered."
But Scottish Labour said the government was "completely failing" to protect frontline services.
Justice spokesman James Kelly said: "The Justice Secretary Kenny MacAskill should tell his cabinet colleagues that community safety is a bigger priority than the SNP's plans for an independence referendum, or failed quangos like the Scottish Futures Trust. Ministers need to decide what their priorities really are."