Stewart Lee wins Malcolm Hardee Fringe stunt prize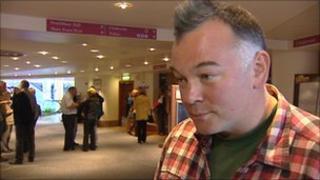 Comedian Stewart Lee has won the award for the best publicity stunt at the Edinburgh Fringe.
Lee won the Malcolm Hardee Cunning Stunt award for accidentally promoting Japanese act Frank Chickens, who were not even appearing on the Fringe.
The awards are presented in memory of Hardee, the late "godfather of British alternative comedy".
Young American comedian Bo Burnham was named the Act Most Likely To Make A Million Quid.
The Malcolm Hardee Award for Comic Originality went to Robert White for his "enthusiastic unconventionality".
White described himself as "the only gay, Asperger's, quarter-Welsh, webbed-toed, dyslexic pianist debuting this Fringe".
Twenty-year-old Burnham, who made his name posting comic songs on YouTube, was also nominated for the Comic Originality award.
The nomination came after his London PR company wrote to the organisers saying he was not driven by making money and would not be comfortable winning the Million Quid Award.
The award judges said "for a modern day stand-up comic not to be interested in money is entirely original".
Burnham later said he had not known of his own PR's response.
He told organisers: "I am a large fan of anti-establishment, anti-comedy, so I really wanted to contact you to say that I am a big fan of Malcolm and an even bigger fan of the ideas that you are embracing.
"Yes, I care about money but I do, kind of, hate myself for it."
Edinburgh veteran Lee won his award for the Best Stunt for his efforts to undermine the vote for a "Comedy God" on the Foster's Edinburgh Comedy Awards website.
Lee complained of the "idiocy" of asking people to choose between obscure acts such as Frank Chickens from 1985 and contemporary household names such as Michael McIntyre.
His message was carried around the blogosphere and thousands voted Frank Chickens their favourite all-time comedy act.
As a result, the 16-strong avant-garde comedy dance troupe performed at the Fringe for the first time in 25 years - at a show promoting Stewart Lee's new book.
The Malcolm Hardee Award organisers said: "The fact that Stewart did not intend to unleash publicity does not negate his success."