Pass rate for Scottish private pupils remains steady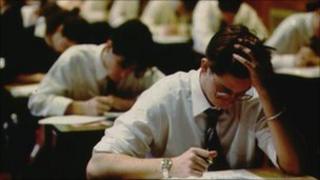 The Higher pass rate for Scotland's private school pupils has remained at 91% for a second year.
The latest statistics from the Scottish Council of Independent Schools (SCIS), showed 51% achieved an A-grade at Higher level, up 1% on 2009.
The figures also showed a 13% jump in the numbers gaining the top grade among Advanced Higher pupils.
About four children in every 100 currently attend independent schools in Scotland.
At 99.7%, almost all pupils who sat Standard Grades at private schools received at least a C-grade.
John Edward, director of SCIS, said: "The ethos of independent schools inspires pupils of all abilities to achieve their academic potential and to develop life skills that will enable them to make an effective contribution to society.
"Although small, the independent sector in Scotland makes a significant contribution in terms of exam presentations, particularly at Advanced Higher where the number of presentations was 16%.
"Independent schools also make an important contribution to science and languages which are vital to the strength and diversity of Scotland's economy."
This year's overall pass rate for Higher exams at state schools was 74.6%.