How pension rule could be used to reduce police numbers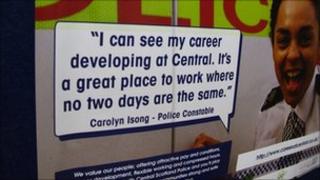 All police forces in Scotland are having to make deep cuts to balance their books, but to do so they may need to rely on an obscure regulation in the police pension regulations.
There is no way to make a police officer compulsorily redundant - apart from using Regulation A19 of the Police Pensions Regulation Act.
The pensions rule affects those with 30 years service or more. Under the act, such officers can be "required to retire" if their retention would "not be in the general interests of efficiency".
But the measure has been little used in the past and is likely to be strongly resisted by unions representing police officers.
Civilians working for the police - in roles such as reception staff or 999 call handlers - are not protected from compulsory redundancy in the same way officers are.
It was reported earlier in August that Strathclyde, Lothian and Borders, Dumfries and Galloway and Northern Constabulary were considering using the regulation to reduce police numbers.
Natural wastage
And without it, chief constables face a difficult task to make the savings they need - more than 80% of the budget in most forces is spent on people.
Three forces in Scotland - Strathclyde, Lothian and Borders and Dumfries and Galloway - have also recently announced a freeze on recruitment as they tackle budget deficits. All other forces said they would consider it.
Central Scotland Police estimate that with natural wastage, they will only be able to reduce the number of police officers by about 30 a year.
This means the force would need to cut 74% of its civilian staff instead to achieve the £11.6m saving it's trying to make.
A recent spending review prepared by Central Scotland Police's Chief Constable, Kevin Smith, shows that he is prepared to use Regulation A19 if necessary.
The document outlines two scenarios - one with a 23% cut in officer numbers if the regulation can be used, and a reduction of 13% if it can't.
But there are fears its use would lead to a loss of experience and leadership as the officers with the longest service are laid off.
The president of the Association of Scottish Police Superintendents (ASPS), David O'Connor, believes a number of chief constables in Scotland are looking at the provision and has warned against its use.
He told BBC Scotland: "The staff associations, including ASPS, would resist this. It could mean an officer being made redundant at the age of 48.
"This flies in the face of the current government's moves to allow people to work as long as they want and the extension of the age at which people can draw their state pension."