Cuts 'strain council relations' - Accounts Commission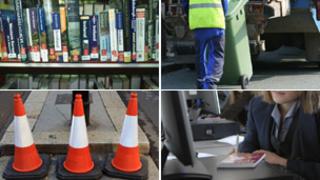 Tough budget cuts are hitting relations between councillors and officials, Scotland's spending watchdog claimed.
The Accounts Commission said that in some cases political tensions were causing a lack of trust and respect between elected members and officers.
Scotland's 32 councils are having to deliver vital frontline services such as schools and social work amid an unprecedented public spending squeeze.
The watchdog has now issued new guidelines which should help relations.
The body said councils must ensure elected members and officials understand their roles, after finding cases of the two sides stepping into each other's areas of responsibility.
The commission also said the rise in coalition and minority administrations and the introduction of multi-councillor wards also increased pressure on working relationships.
The Accounts Commission stated: "In those councils where relationships are already strained, the financial pressures could make matters worse.
"Difficult financial decisions come at a time of heightened political activity, with local and national elections in the next two years.
"This may lead to increased political tensions between individual councillors and across political groups, making it more difficult to maintain good working relationships."
'Meeting needs'
The commission's report said this had been an issue among some local authorities, adding: "In the most serious cases, problems included heightened political tensions among councillors and a lack of trust and mutual respect among councillors and between councillors and officers, which affected their ability to work together."
The watchdog said there were 240 complaints against councillors, under their code of conduct, in 2008-09 - an increase of 21% on the previous year.
A total of 35 complaints made allegations of disrespect of employees or councillors and officials, with a fellow councillor making the complaint in a "significant number" of cases.
Accounts Commission chairman John Baillie said councils were taking action to ensure good working practices were in place, but warned the situation was quickly changing.
He added: "Councillors and officers are at the heart of local government policy and delivery and how they work together is fundamental to success.
"Councils are rising to the challenge and working hard to keep delivering quality services that meet people's needs, despite reduced funding and other pressures."
Council umbrella body Cosla said elected members and officers have always had to take difficult decisions together.
A spokesman said: "As the report highlights, the relationship between elected members and senior officers is strong within councils and this is exactly the sort of successful strong leadership that is needed particularly at this time of real financial constraint."
A Scottish government spokesman said it was vital to deliver maximum value for money, adding: "This publication recognises progress made by councils in delivering best value while emphasising the increasing importance of good governance."