Burlesque protest over bad review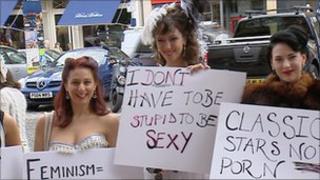 A group of burlesque performers have decided to "put their heels down" over a bad review in a newspaper.
Sally Stott in The Scotsman described burlesque as a woman with an expression like a "blown-up sex doll" taking off her bra and dropping it on the floor.
She defied any "enlightened person" to come away feeling anything other than depressed.
Performers from Circus Burlesque, one of the shows reviewed, took to the streets to protest.
Miss Tempus Rose, the host of Circus Burlesque, said the review was an attack on burlesque as an art form.
She said it had compared them to "miserable porn stars".
"The protest isn't really about the bad review," she said.
"It was about it saying that if you were a burlesque performer you could not be a feminist.
"It said we were somehow anti-feminist and conforming to sexism.
"We believe we are feminists. We are promoting this idea that a women can have brains and beauty and be proud of both."