Missing vulture could pose threat in Scottish skies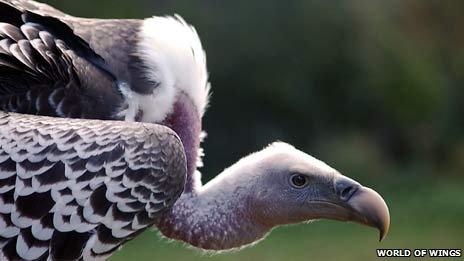 Warnings have been issued to Scottish aircraft after a bird of prey, which can soar at up to 37,000 feet, went missing.
The Rueppell's Griffon Vulture was flying in a display in Cumbernauld when it was caught in a gust of wind.
Its handlers at the World of Wings centre could only watch as their star attraction soared high in to the sky.
It is feared the seven-year-old female, named Gandalf, could pose a threat to aircraft.
David Ritchie, director of the centre, said: "These birds can soar higher than any other in the world, and have recorded heights of over 36,000 feet.
"Gandalf is an absolute monster bird with a 10-and-a-half foot wingspan. She poses a genuine threat to airplanes."
The bird has been the star at the centre since 2006, when she was brought from Africa as part of a breeding programme.
World of Wings specialises in promoting the plight of vultures, which are becoming increasingly endangered.
Rueppell's Griffon Vultures are native throughout the Sahel region of central Africa but the current population of 30,000 is in decline due to ongoing loss of habitat and other pressures.
Along with other birds, Gandalf is let loose to fly every day for members of the public, to show the birds "in their full glory".
Mr Ritchie also said: "She was taking part in her daily display and started to soar. She got caught in the wind and just went higher and higher until she disappeared.
"We would warn people not to approach her but to call the police. She has no fear of humans and she could give someone a very severe bite. Her beak is designed to tear flesh apart."
Scottish airports, the police, the Scottish SPCA, Edinburgh Zoo and Blair Drummond safari park have all been informed.
National Air Traffic Services confirmed that pilots taking off and landing at Scottish airports have been warned about the vulture.
A spokeswoman for the Civil Aviation Authority said: "It can be quite serious. All the operators in the area have been notified."
A spokesman at Cumbernauld Airport said: "With a wingspan of 10ft, it could do a lot of damage to a large aircraft. But it's also half the size of some of our small training aircraft and it could take one of them, or even a helicopter, right out."
Related Internet Links
The BBC is not responsible for the content of external sites.