Rural drug dispensaries row takes fresh twist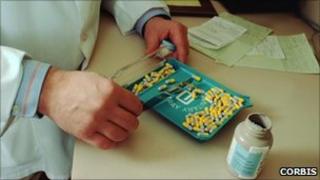 A row has reopened between doctors and pharmacists over who has the right to dispense medicines in rural areas.
About 60 surgeries face losing income from dispensing drugs after pharmacists used the Freedom of Information Act to find out how much they were making.
They found that about half of the estimated 130 rural surgeries with their own dispensaries had turnovers of hundreds of thousands of pounds.
Now pharmacists are applying to set up shops in lucrative areas.
Surgeries in rural parts of Scotland developed their own dispensaries after it was thought that local populations were too small to support a pharmacy.
But more and more pharmacists are applying for - and being granted - permission to open shops following the discovery that some of these dispensaries are extremely profitable.
On the island of Cumbrae off the west coast of Scotland, GPs argue that they cannot provide the same levels of service without funding.
Local doctor Jim Bryson, whose dispensary brings in more than £400,000 a year, said the money was in part used to fund an extra doctor.
He said: "There are three doctors on the island. We pay for staff, we have an out-of-hours service to run.
"We wouldn't be able to provide the services we do on the island. We wouldn't be able to recruit doctors to the island in the future."
Pharmacists argue that a pharmacy shop offers extra benefits such as a second check on a prescription, and an over-the-counter service for minor ailments.
Some even go as far as to accuse GPs of whipping up local opposition to pharmacies by suggesting the public could lose services.
Pharmacist James Semple, who has applied to open several pharmacies around Scotland in the face of strong opposition from GPs, said: "I don't accuse GPs in some way of trying to make money.
"What I am saying is that when GPs put fear into local populations in order to protect their income - that is what is wrong."