Scotland games to stay on pay TV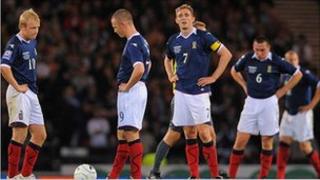 Scotland's home qualifying matches for major international football tournaments will continue to be shown on subscription channels such as Sky Sports until at least 2013.
A commission last year recommended the broadcast rights for the games should be reserved for free-to-air channels.
But the UK government has now deferred a review of the issue until the conclusion of the digital switchover.
The announcement was described as "ridiculous" by an SNP MSP.
The list of so-called sporting Crown Jewels, which was drawn up in 1998, is intended to ensure viewers have a chance to watch events of "special national resonance" on terrestrial stations such as the BBC and ITV.
Among the events included on the list are the World Cup and European Championship football finals, the Olympic Games, Wimbledon, the Grand National and the Scottish and FA Cup finals.
An independent advisory panel chaired by former Football Association executive director David Davies recommended that qualifying matches played by the four Home Nations should be added to the list.
At present, Sky Sports holds the broadcast rights to all of Scotland's home qualifying matches, with rights to away matches sold to broadcasters on an individual basis by the Scottish Football Association.
SNP West of Scotland MSP Stuart McMillan claimed broadcasting the matches on satellite or cable channels prevented thousands of Scotland fans from seeing their team play on the international stage.
Mr McMillan said: "Once again the Tories find themselves offside in Scotland.
"It is ridiculous that for Scotland fans who want to see their team play the only way to watch the match is to go to the pub, leaving young footballers of the future unable to see the match and putting pressure on parents' already stretched budgets to sign up to satellite or cable stations.
"The continued failure of the BBC or ITV to recognise their obligations to Scottish sports fans and to invest in showing Scotland games as they do in other sports such as Formula One is one part of the problem, but one a place on the Crown Jewels could have solved."
'Economic climate'
UK Minister for Sport Hugh Robertson said he "fully supported" the principle of protecting major sports events for free to air coverage.
"But with Digital Switchover concluding in 2012, this will result in the widespread availability of a significantly increased number of television channels, many of which will be free to air," he said.
Mr Robertson added: "Add to this the BBC's Strategy Review, which will cover sports rights, and the Ofcom Pay TV Review, the broadcasting context for this decision is increasingly unclear.
"The current economic climate also points to us not making a decision at this time which could adversely impact on sport at the grassroots. I have therefore decided to defer any review until 2013, when we will look at this again."