Irish link to help Scotland's birds of prey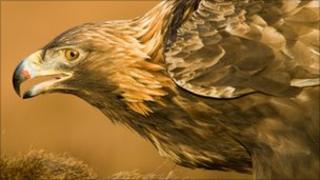 The Scottish and Irish governments are to work together to tackle the illegal poisoning of golden eagles and other birds of prey.
Environment Minister Roseanna Cunningham has written to her Irish counterpart, asking for talks on the "unacceptable problem".
Ms Cunningham wants to look at possible joint initiatives.
The Irish government has also indicated it is keen to collaborate with Scotland on the issue.
Figures released in March showed the number of birds of prey being killed with poison in Scotland had increased, with a total of 22 poisonings recorded in 2009.
And in May, 10 protected birds of prey were confirmed poisoned across the Irish Republic over a period of a few weeks.
Ms Cunningham said: "Both countries are committed to a healthier future for golden eagles.
"Sadly, poisoning is still being reported but both governments find this behaviour unacceptable. I believe that collaboration could help us in the fight to stop this damage to our biodiversity and to our international reputations."
Organisations from both countries are already working together in some areas on the conservation and protection of bird of prey populations.
Scottish and Irish police forces have been sharing expertise in detecting and enforcing wildlife crime, and Scottish Natural Heritage (SNH) has been advising the Irish Golden Eagle Reintroduction Project.
The project, managed by the Golden Eagle Trust in partnership with the Irish government's National Parks and Wildlife Service, aims to re-establish a self-sustaining breeding population of golden eagles in north west Ireland after an absence of almost 100 years.
It is based on limited donations of golden eagle chicks from Scotland, taken under a licence issued by SNH.
Ireland's Environment Minister, John Gormley, said his country was very grateful to the Scottish government and people for their support in allowing eaglets to be taken for its re-introduction project.
He added: "We understand the concern about eagles being poisoned and hope that both the Irish and Scottish governments can support each other in measures to stamp out this blight on both our countries."