'Tough time' for Scots shopkeepers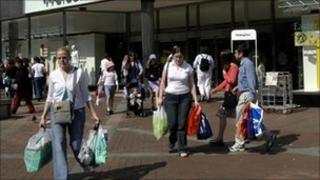 Scotland's shopkeepers had another "weak" month in June, according to the Scottish Retail Consortium.
Total sales for the month were up 1.7% compared to last year but big-ticket items and discretionary spending were hardest hit.
Like-for-like sales, which strip out the effects of new store openings, fell 1.1% with food sales completely flat.
The consortium said worries about public sector cuts appeared to be "knocking consumer confidence".
Its director Fiona Moriarty, said: "In June, Scottish retailers didn't benefit from the same World Cup boost or consistent periods of hot weather as those south of the border and Scottish customers continued to be cautious.
"Retailers will be hoping customers' nervousness subsides over the summer and the arrival of tourists and the back-to-school season provide a lift."
Once again the value of Scottish sales trailed those of the UK as a whole, where total sales grew 3.4% and like-for-like by 1.2%.
During the sunny spells, sales of some food stuffs like ice cream and soft drinks increased but overall sales of food and drink were no higher than a year ago.
Non-food items suffered badly in June with sales of clothing, footwear, home furnishings and DIY all falling.
TVs benefited from widespread World Cup promotions and some gardening and outdoor items showed an uplift on some of the warmer days but the effect was short-lived when the weather cooled.
David McCorquodale, head of retail in Scotland for KPMG, which sponsors the survey, said: "High street performance over the last three months paints the same picture with like-for-like sales struggling to improve against the continued backdrop of impending spending cuts in the Scottish public sector.
"The Scottish consumer is still erring on the side of prudence and, with VAT set to rise in January, retailers will have to work hard for the rest of the year to take advantage of a discretionary spend honeymoon."