Afghan tourism: The journey in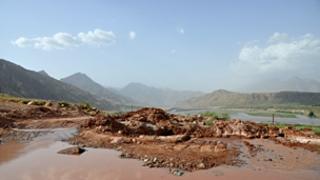 "There is Afghanistan." Our driver pointed across the valley to a line of steep, red cliffs that formed the bank of a wide river.
It was 30 hours since we left Glasgow and would be another nine on rough roads following the River Pyanj, which marks much of Afghanistan's northern border, before we arrived at Khorog in southern Tajikistan.
We have passed through hundreds of miles of sandstone hills and plains since leaving the Tajik capital Dushanbe on Thursday, the horizon constantly blurred by the haze and dust.
Now at Khorog, another few hours remain before we reach our border crossing point at Ishkashim.
We are travelling the long - but secure - way into Afghanistan with two climbers from Scotland intent on spending their summer holiday there.
It is safe to say that the country would not top many people's lists of attractive destinations. For years it has been blighted by terror, poverty and violence.
The British Foreign Office does its best to put off would-be tourists, with thousands of words on its website warning against the suicide attacks, mines, kidnapping and terrorism.
But, quietly, tourists have been returning to an area of Afghanistan left mostly untouched by the ravages of the Soviet occupation and the Taliban.
The Wakhan Corridor - a spur of land jutting from the north east corner of the country - has remained peaceful, partly because of its sheer inaccessibility.
The corridor is guarded by mountain ranges with high, snowy passes and has only one road in.
To reach somewhere like Langar, in the eastern Wakhan, it can take 12 days of continuous travel from the UK by air, 4x4 and foot.
There are limited medical facilities and almost no hope of rescue should something go wrong.
But for a trickle of adventurers, this quality has made it the ultimate destination - wild, remote and with thousands of square miles of untrodden, unexplored mountains.
It is the draw of these unclimbed peaks that has brought Alan Halewood, a mountaineering instructor based near Fort William, and Neal Gwynne, a teacher in Glasgow, to the area.
Over the next two weeks, BBC Radio Scotland reporter Huw Williams and I will accompany Alan and Neal.
We will travel with them to the end of the road in the Wakhan Corridor and then at the beginning of their trek deep into the mountains.