Swinney calls for more powers to deal with budget cuts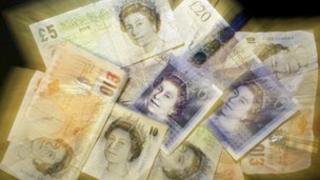 Scotland's Finance Secretary has said more powers are needed for Holyrood in the face of UK budget cuts.
John Swinney said additional economic and financial powers were "the only alternative" to an unprecedented UK budget consolidation.
He was speaking after the first meeting with Scottish, Welsh and Northern Irish finance ministers and Danny Alexander, the chief secretary to the Treasury.
Mr Swinney also used the meeting to call for more detail on the cuts.
Chancellor George Osborne's first budget last month detailed a package of tax increases and spending cuts which aimed to cut the UK's £155bn deficit.
After the four ministers met in London, Mr Swinney said the current administration's proposals would cut spending "too quickly and too deeply".
'Clearer than ever'
He added: "I pressed the chief secretary to the Treasury for access to early financial information to allow the Scottish government to make the best possible preparations for the cuts that are being imposed on us, and to prepare a budget that will have as its priority protecting public services and economic growth.
"It is clearer than ever that Scotland needs economic and financial powers as the only alternative to a UK budget consolidation the likes of which we have not seen before, so that we have the tools we need to boost growth and revenues in the Scottish economy.
"As well as setting out the need for economic and financial powers for the Scottish government and parliament, which are essential to boost economic growth in Scotland, I again pressed the case for access to the £187m Scottish fossil fuel levy to support our vital renewables industry.
"This would make a significant contribution to boosting economic growth in Scotland."
The UK government spending plans contained a commitment to review the use of the levy, which comes from energy firms in Scotland and is held by industry regulator Ofgem.