Scots with severe asthma 'marginalised', says charity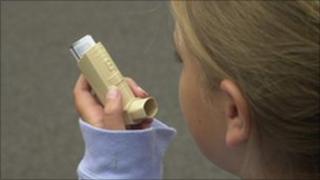 People in Scotland with severe asthma are "some of the most marginalised in society", according to a charity.
A report published by Asthma UK and the Severe Asthma National Network (Sann) said those with the condition faced widespread discrimination.
The Fighting for Breath document called for a wide range of measures to be brought in to address the issue.
About 18,000 Scots suffer from severe asthma and the report said there were 1,200 asthma deaths a year in the UK.
The report summarised the findings of eight focus groups across the UK, including two in Glasgow, which were attended by people with severe asthma between January and March 2010.
Many of those interviewed for the study said they faced frequent prejudice because of their condition.
They said this was due to ignorance about how serious the asthma could be and the fact that it was "largely unseen" and could vary in its severity from day to day.
Shona Haslam, national director of Asthma UK Scotland, said: "We're calling on everyone who can make a difference to the lives of people with severe asthma to take action.
"Our report shows that people with severe asthma are some of the most marginalised in society, living hidden lives, facing discrimination from many areas of society and missing out on vital life opportunities."
Ms Haslam said the Scottish Parliament must ensure that those affected and their carers were able to access the benefits they needed.
She called for spending on specialist nurse posts to be protected and specific asthma standards for adults to be developed and implemented.
The report found that some children were left unnecessarily marginalised by the condition because their school could not offer them the support they needed.
Some adult sufferers reported facing discrimination from employers who did not accommodate their condition.
Many sufferers questioned the quality of care they received on the NHS, particularly at A&E.
Asthma UK Scotland said it hoped the report provided guidance to improve the future quality of care provision for people with severe asthma and their carers.