Week ahead in Parliament
Mark D'Arcy
Parliamentary correspondent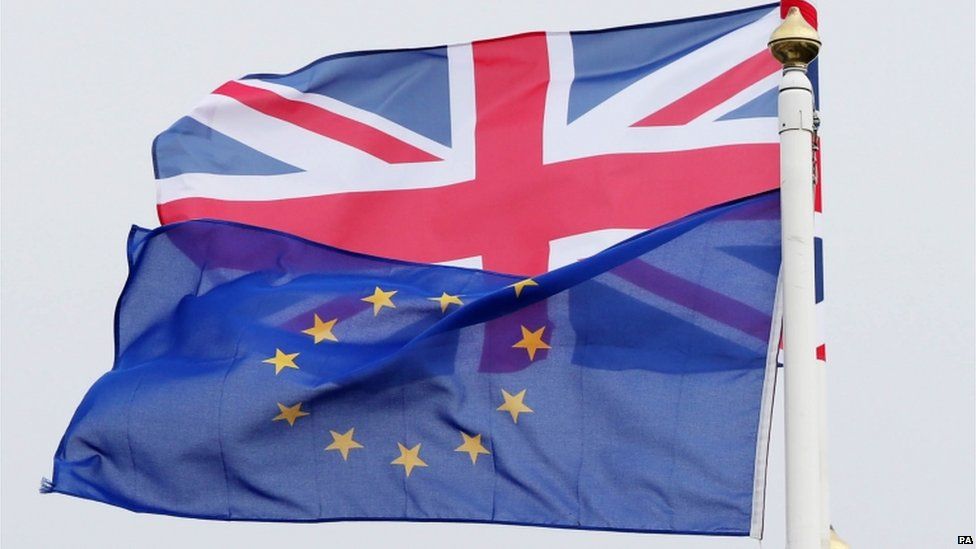 With the government's attempts to secure Cabinet agreement on a Brexit deal increasingly resembling a "will-they-won't-they" plotline in a bad soap opera, there is at least the potential for next week's scheduled Westminster action to be completely eclipsed by the announcement of a deal.
If a deal does emerge, it would require a prime ministerial statement of such length that the business for the rest of the day, and quite possibly the rest of the week, might have to be rescheduled.
If a Brexit deal is not unveiled, there's still plenty for MPs to chew on, starting with the Finance Bill, where Monday should see a fair amount of preliminary manoeuvring aimed at assembling cross-party coalitions to push through amendments.
And there is also a sudden spate (bloom?) of environmental debates, with a Petitions Committee debate on plastic packaging, Labour MP Darren Jones popping up on a couple of occasions to highlight green issues (industrial farming and extreme weather events) and a debate on the need to increase recycling in the Lords. I don't know if this amounts to a trend, but it begins to suggest a greater parliamentary focus on green concerns.
The Commons returns (2.30pm) with an hour of Education questions. After that, it's a fair bet that the brief half-term break will have generated a couple of urgent questions or ministerial statements.
If not, the main legislative action will be the second reading of the Finance Bill - and a shoal of "reasoned amendments" declining it a second reading are already down, from the SNP (who got in first), Labour, the Lib Dems, the Greens' Caroline Lucas and Plaid Cymru.
The SNP condemn the Budget as a "continuation of austerity", oppose the proposed tax cuts for higher earners and regard the total package as "a wholly inadequate response to the economic challenges being faced by Scotland and the UK".
The Labour amendment (and the Speaker normally "selects" the official Opposition amendment) also complains of continued austerity and "tax cuts for the wealthiest", before going on to mention Universal Credit, adult social care and, interestingly, the delay in reducing the maximum stake for fixed-odds betting terminals, an issue likely to be the subject of a cross party amendment at some point during the bill's consideration.
The Lib Dem amendment is not dissimilar, but also calls for comprehensive tax reform and moves to support the poorer regions of the UK, before sounding a warning about the economic consequences of Brexit.
The Green amendment focuses on the need to address the consequences of ecological breakdown, while Plaid's complains that Wales is being short-changed in terms of transport spending and borrowing powers.
The accompanying Programme Motion provides for two days of debate on the most contentious details of the Finance Bill in a Committee of the Whole House (expected to be on Monday 19 and Tuesday 20 November) with the remainder consigned to a Public Bill Committee, which will be required to complete its scrutiny by Tuesday 11 December.
Watch out, at the close of the second reading debate, for a bit of argy-bargy at the Table, as assorted parties and factions jostle to put down detailed amendments - as I mentioned, something on FOBTs (fixed odds betting terminals) looks a cert, but other issues are bound to be targeted as well.
The adjournment debate, led by Labour's Darren Jones, is on the scale of concentrated animal feeding operations - following reports that thousands of British cattle being reared for supermarket beef are being fattened in industrial units where the animals have little or no access to pasture.
In Westminster Hall (4.30 pm), the Petitions Committee has scheduled a debate on e-petition 222715: "In response to the problem of an ever-increasing amount of plastic waste polluting our environment, we need to make supermarkets offer an option of no packaging or eco-friendly packaging for each item of fresh fruit and vegetables they sell." The petition has attracted 121,625 signatures.
My committee pick is the Housing, Communities and Local Government session on the future of high streets and town centres (1.30pm) with a series of councillors and local planners looking at how to maintain prosperous high streets in an era of rapid change.
The normal form at committee stage is for amendments to be put down to "probe" the government's thinking, and it is rare for anything to be pushed to a vote - that can follow at report stage, if peers are not happy with the ministerial responses.
Earlier stages of debate have seen attempts to strike out quite large chunks of the bill, and to add a new clause making assisting a foreign power or terrorist group in committing an act of terror in the UK an act of Treason. Some of these may be revisited at report.
There will also be a short debate on imposing a statutory duty of care upon large providers of social media services with the UK, led by Labour's Lord Stevenson of Balmacara
MPs begin (11.30am) with Justice questions - with the possibility of statements or urgent questions at 12.30pm, although this is frowned when they might eat into the time available for the Opposition Day debates later in proceedings.
The day's Ten Minute Rule Bill, from the Conservative Andrew Selous, deals with the housing and educational needs of the Gypsy and Traveller communities and would create a criminal offence of unauthorised encampment.
That is followed by two Labour Opposition Day debates on motions on mental health and school funding.
In Westminster Hall (9.30am), the day's first debate, led by Labour MP Darren Jones, is on extreme weather events related to climate change - he wants to raise the warning by the Intergovernmental Panel on Climate Change that the world has 12 years to limit global temperature increases to 1.5°C, and get some response from a minister.
This 90-minute debate looks like just the first step in a parliamentary campaign, which will see attempts to secure a prime-time debate in the Commons chamber.
Subjects for debate in the afternoon include the future of taxi and private hire licensing (2.30pm) - the Labour MP Daniel Zeichner made reforming the workings of the sector the subject of a private members bill, which was eventually "talked out" but, undeterred, he is now raising the issue again.
That is followed by a debate on parental leave for parents of premature babies, led by Labour MP Steve Reed (4pm) and the final debate (4.30pm) is on the offence of "sex for rent" - Labour MP Peter Kyle leads.
On the committee corridor my eye was caught be the Defence Committee session (3pm) on the provision of mental health care for the Armed Forces. The witnesses include Charlie Wallace, the Scottish Veterans Commissioner; Mark Birkill, a therapist at Veterans' NHS Wales; Dr Oscar Daly, Psychiatrist at Combat Stress Northern Ireland and other expert witnesses.
These sessions have seen some very tough grilling of ministers - and this evidence may tee up more questions to put to them. Keep an eye on ex-Army officer and committee member Johnny Mercer, and former Armed Forces Minister Mark Francois.
In the Lords (2.30 pm) questions to ministers include one on restricting the advertising or sale of flavoured nicotine vaping fluids, from the elected hereditary peer, Lord Vaux of Harrowden.
Note the phraseology here: peers lost the right to tinker with Budgets more than a century ago, so this debate is essentially an opportunity for expert commentary.
But, as I write, none of the Lords contingent of ex-chancellors (Lawson, Lamont, Darling) are on the speaker's list - although the rather maverick Lord Skidelsky, economic historian and biographer of Keynes, is always worth listening to.
The Commons day begins (11.30am) with half an hour of questions to the Chancellor of the Duchy of Lancaster and Minister for the Cabinet Office, David Lidington.
At noon, it's Prime Minister's Questions, and then comes a Ten Minute Rule Bill on Freehold Properties (Management Charges and Shared Facilities) from Labour MP Helen Goodman.
This targets an issue Labour have been highlighting, and covers regulation of fees charged by management companies to freeholders of residential properties and makes provision for self-management of shared facilities and would require management companies to ensure shared facilities are of an adequate standard.
There is also a Presentation Bill - which is simply announced without debate - from the SNP MP Brendan O'Hara. It calls for an independent evaluation of the impact of Brexit on the health and social care sector. This kind of bill has a minimal chance of even being debated; it just goes to the back of a queue of similar bills, which eventually run out of time to be considered.
MPs will then debate "an Humble Address" congratulating the Prince of Wales on his 70th birthday.
The day's legislating is the second reading of the Healthcare (International Arrangements) Bill - a Brexit bill to provide the government with the powers needed to fund healthcare for UK nationals abroad, so it can continue reciprocal healthcare arrangements or otherwise support UK residents in the EU.
The adjournment debate led by formidable Labour ex-minister, Pat McFadden, is on the impact of changes to police employee pension contributions - an issue which has led to warnings that services may be hit in order to meet new pension obligations.
On the committee corridor, Human Rights has an evidence session (3.15pm) on immigration detention with the former Home Secretary, Lord (David) Blunkett.
In the Lords (3pm), questions to ministers include Labour's Lord Hunt of Kings Heath asking about the Metropolitan Police's decision not to open an investigation into potential breaches of electoral law by the EU referendum pro-Leave campaigns.
Then it's on to day four of committee stage consideration of the Counter-Terrorism and Border Security Bill, where the focus will be on border security. There will also be a short debate on safeguarding the human rights of the English-speaking minority in Cameroon led by Labour peer, Lord Boateng.
MPs open (9.30am) with half an hour of International Trade questions, followed by Women and Equalities questions, and then the weekly Business Statement, and questions to the Leader of the House, Andrea Leadsom.
The main event is a general debate on the Veterans Strategy, which was announced in April, by the Defence Secretary, Gavin Williamson.
It is focused on issues like homelessness, loneliness, debt problems, and mental health - and while the "general debate" format precludes amendments, ministers will be braced for criticism, both over health provision for veterans, particularly on mental health, and on the continuing historic inquiries into allegations of crimes by service personnel in Northern Ireland, Iraq and Afghanistan.
Watch out for contributions from Defence Select Committee members.
In Westminster Hall, 1.30 pm proceedings open with a select committee statement on the publication of the a report from the Science and Technology Committee on evidence-based early years intervention.
Then there's a debate on Anti-Bullying Week 2018, led by Labour MP, Daniel Zeichner.
In the Lords (11am) the main debate is also on the government's Veterans Strategy, and there will also be a short debate on the threat to the environment by plastic and the case for improved recycling .
Neither House sits on Friday 16 November.