Week ahead in Parliament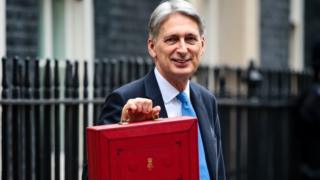 This is the week when all the ominous rumbling about "voting down the Budget", or "amending the Budget" will collide with the realities of parliamentary procedure.
In theory, Westminster's Brexit obsession is temporarily elbowed aside by one of the big set-pieces of the Westminster year; in practice the politics of Brexit will never be far away, and might drive some attempts to wound, or at least discomfit the government.
But how? The procedures around the Budget are quite restrictive - because, in the first instance, MPs are voting on a series of Ways and Means resolutions to bring in a finance bill, which renews the annual authorisation of income tax and corporation tax and adjusts other taxes.
The reasons for this approach dates back to Parliament's spats with the Stuart kings, but the upshot is that the Budget debate covering all the resolutions ends with MPs voting on each in turn a series of resolutions, only the first of which can be debated and amended - after that the standing orders require the rest are voted on "forthwith".
That doesn't give much room for manoeuvre for would-be amenders, especially if that first resolution is tightly worded and difficult to amend in any meaningful way. Gordon Brown, as shadow Chancellor, did successfully amend the first resolution in December 1994, to resist a higher rate of VAT on energy bills - but examples of this are rare.
On 22 March 2016, the first resolution was amended twice: first (without a vote) to cut VAT on insulation, solar panels and other energy-saving materials and second (on a rare government defeat) to allow a cut in VAT on women's sanitary products.
I'm really not sure what would happen if the resolutions were simply voted down - but that would require a majority of MPs to be so opposed to the government that they were not prepared to allow it to raise taxes, in essence, to run the state. It would be one of those nuclear options which are procedurally possible, but politically improbable.
So at this point the action shifts to the Finance Bill foreshadowed by those resolutions - it is expected to be published on 7 November, just as Parliament begins its mini-half term break. One option for Opposition parties is to put down a "reasoned amendment" along the lines of "This House declines to give the Bill a Second Reading, because the Government is pants".
And again, denial of a second reading would spell serious trouble for the government.
Another point of attack would be the accompanying timetable motion. It is normally unamendable - but, if defeated, it could lead to an open-ended debate on the bill, potentially trapping the government in a long-term filibuster, until a way out could be found.
Then, we have the normal run of detailed amendments. Part of the bill is considered by a Committee of the Whole House, and the Opposition normally tries to ensure that the most contentious aspects are considered by this means, rather than offstage, on the committee corridor.
Philip Hammond's budgets are usually cautious affairs, but there is a clamour for more spending in all kinds of areas - social care, defence, police, local government, infrastructure, you name it - not to mention Brexit preparations (and in that context watch out for the forecasts for the economy which are always part of a Budget).
One issue to watch - not particularly Brexit-related - is an attempt to hold the government to its earlier pledges to clamp down on the maximum allowable bets on fixed-odds betting terminals (FOBTs) dubbed the "crack cocaine of gambling".
A cross-party alliance including the former Tory Leader Iain Duncan Smith and Labour's Carolyn Harris, plus Health and Social Care Committee Chair, Dr Sarah Wollaston, is threatening to target them with an amendment to the Finance Bill.
Another policy nugget is being pursued by the former Education Secretary, Justine Greening, who is piloting Lord Bird's private member's bill from the Lords, on creditworthiness assessment.
The idea is to ensure that people's record of paying rent is taken into account when they seek loans or mortgages - at the moment she argues the system essentially discriminates against tenants and in favour of property owners. She's hoping for an announcement of support from the Chancellor, including some realistic way of getting her bill into law.
The rest of the week is taken up by a series of themed debates on different aspects of the budget. These are not usually announced in advance, to maintain the traditional secrecy about its contents - but the debates will occupy the Commons for the rest of the week.
And, of course, the Treasury Select Committee will be holding its usual series of hearings on the Budget, kicking off with Robert Chote, Chairman of the Office for Budget Responsibility, the fiscal watchdog body, on Wednesday, taking in a series of experts and critics, and culminating with an appearance by the Chancellor, Philip Hammond, himself.
Monday 29 October
The Commons week begins (2.30pm) with Home Office questions. And on Budget Day, it would take quite a major issue to justify a ministerial statement or urgent question which delayed Philip Hammond's Budget statement, which would follow at 3.30pm.
Mr Hammond typically speaks for an hour or so, and then Jeremy Corbyn will have to provide an instant response. This is one of the toughest tasks any parliamentarian has to perform - to provide a meaningful analysis of a vast and complex package of measures that has only just been unveiled.
Pre-prepared soundbites and benchmarks will only get you so far, and then generations of Opposition leaders have then had to work into their remarks morsels of analysis, fed to them by a team of policy wonks operating from an office a few yards outside the chamber. This is a brutal test of parliamentary skill.
The other point to note is that these proceedings are chaired by Sir Lindsay Hoyle, the Chairman of Ways and Means, the senior deputy speaker. He tends to be greeted with loud cheers from the Conservative benches, as a way of dissing Speaker Bercow - how loud will they be this time?
In Westminster Hall (4.30pm) MPs debate e-petitions 220501 and 221860 calling for public holidays on Muslim and Hindu religious festivals. The one on Muslim occasions attracted more than 46,000 signatures, and notes that, despite being the second largest UK religion, "Muslims don't get a lawful public holiday on their two special religious occasions in a year."
Similarly, the petition calling for public holidays on Hindu special occasions attracted 11,000 signatures. It called for Diwali, the Festival of Lights, to be made a public holiday, pointing out that it is also celebrated by Buddhists, Jains and Sikhs. The government has responded saying it has no plans to create new public holidays to mark Eid and Diwali.
In the Lords (2.30pm) questions to ministers include the ex-leader of UKIP, Lord Pearson of Rannoch, asking if the government plans to withdraw their notice under clauses 2 to 5 of Article 50 of the Treaty on European Union, and offer through the Council of Ministers continuing free trade, residence and security to EU citizens before agreeing any financial settlement in the Brexit negotiations.
The day's main legislative action is the first day of committee stage scrutiny of the Counter-Terrorism and Border Security Bill - on Day 1, the focus will be on Terrorist Offences.
Among other things the Lib Dem Lady Hamwee will be seeking to strike down clauses 1 3 and 4 of the bill. The first seeks to create a new offence of expressions of support for a proscribed organisation, the second deals with the law on obtaining or viewing material over the internet, and clause 4 is on entering or remaining in a designated area (the bill gives ministers a power to designate an area as a place UK nationals should not enter - for example, a terrorist controlled area or a terrorist training camp).
The Green peer Lady Jones of Moulscombe wants to remove schedule 3, which lists border security powers. But bear in mind that in committee stage debates these proposals are rarely pushed to a vote, and the objective is usually to test the government's reasoning. Serious attempts to make changes may follow at the later report stage.
There will also be a short debate led by Labour Peer and Remain campaigner, Lord Adonis, asking whether there is any conflict of interest between the duties of the chair and deputy chair of Ofcom as impartial regulators of the BBC and their parliamentary duties including their voting record on Brexit - this refers to the Ofcom Chair, Lord Burns, a crossbench or independent peer, and Baroness Noakes a Conservative peer, who stood down from Ofcom at the end of May.
His particular concern is that both voted with the government on the issue of a Customs Union, in the Lords in April.
Tuesday 30 October
The Commons meets (11.30am) for Foreign Office questions.
The day's Ten Minute Rule Bill, from Labour's Sir Kevin Barron, would require the government to report on requiring tobacco companies to meet the costs of smoking cessation services and create an offence of selling tobacco without a licence.
After that the Budget Debate continues.
In Westminster Hall debates include ovarian cancer diagnosis and treatment (9.30am) - the Conservative Lee Rowley wants to highlight the issues around one of the less well-known cancers, which include detection, because the initial symptoms are easy to misinterpret, and new treatments,
Former minister John Hayes leads a promising-looking debate (2.30pm) on beauty and the built environment. As a minister, Mr Hayes made speeches about the dangers of ignoring aesthetics, and he's planning to criticise what he calls the "obsessive concentration" on quantity, as opposed to quality, in housebuilding, as well as highlighting the link between good regenerative development and wellbeing. Expect plenty of his trademark poetic flourishes.
Then, (4pm) Labour MP Jeff Smith will be raising the recommendations of a report of the All Party Parliamentary Group on Mental Health which was published last week. It reviewed progress at the half way point of the government's Five Year Forward View plan, and found that core services are still underfunded and often overwhelmed; there were problems with staffing levels and there was a need to joining up services - in particular social care and housing.
My select committee pick is the International Development hearing (2.30pm) on the humanitarian situation in Yemen.
Witnesses include Jan Egeland, Secretary-General, Norwegian Refugee Council; Marwa Baabbad, Oxford Research Group, and Dina El-Mamoun, Head of Policy and Advocacy in Yemen, Oxfam; then Alistair Burt, International Development Minister (at 3.15pm).
In the Lords (2.30pm) peers repeat the Commons effort to zip through all stages of consideration of the Northern Ireland (Executive Formation and Exercise of Functions) Bill, which tidies up the way government operates there, in the absence of a functioning Executive, because of the continuing political deadlock.
The key issues concern the powers given to civil servants and ministerial appointments, but may include human rights issues, after MPs added an amendment on abortion and introducing equal marriage for gay people.
Another issue could be giving pensions to injured Troubles victims. Some of these may be pushed to votes. Once peers have yomped their way through all that, there's a short debate on the extradition treaty between the United Kingdom and Kuwait, and then a Lib Dem regret motion on the Data Retention & Acquisition Regulations that the House considered this week.
Wednesday 31 October
The Commons day begins with Northern Ireland questions (11.30am), followed, at noon by Prime Minister's Questions. The day's Ten Minute Rule Bill, from the Scottish Conservative Luke Graham, is on an issue that's increasingly cropping up in the Commons: banking and Post Office Services for rural areas and small communities.
After that MPs resume the set-piece Budget Debate.
In Westminster Hall, there are debates on hospice funding and the NHS pay award (9.30am) and the effect on the aviation sector of the UK leaving the EU (2.30pm).
There's a curiosity on the committee corridor as (arguably) UK's No.1 power couple simultaneously give evidence to different select committees: Ofcom boss, Sharon White will be giving evidence to the DCMS Committee on Fake News (2pm) while her husband Robert Chote will be giving evidence to the Treasury Committee on the Budget. There is no way to check this, but I doubt such a coincidence has ever happened before.
Elsewhere, there's some heavyweight policy under the microscope. Environment Secretary Michael Gove is before the Environment, Food and Rural Affairs Committee (9.30am) talking about his Agriculture Bill, accompanied by Agriculture, Fisheries and Food Minister, George Eustice. And the latest Housing Minister, Kit Malthouse, is before the Housing, Communities and Local Government Committee (9.45am) to talk about the government's social housing green paper.
In the Lords (3pm) the main legislating is on the committee stage of the Counter-Terrorism and Border Security Bill, where peers will focus on Clauses 5-11, covering terrorist offences, sentencing, notification requirements and serious crime prevention orders - key issues include increased sentencing, notification requirements and extra-territorial jurisdiction. There will also be a short debate on new technologies for Type 1 diabetes patients, such as flash glucose monitoring systems.
Thursday 1 November
The Commons opens (9.30am) with Digital, Culture, Media and Sport questions, followed by questions to the Attorney General and the weekly Business Statement from the Leader of the House, Andrea Leadsom. Then comes the conclusion of the Budget Debate.
In Westminster Hall, Dr Sarah Wollaston, chair of the Health and Social Care Select Committee will deliver a statement on the publication of their latest report, on prison health.
And there's a debate on the future of legal aid. This was pushed for by a number of All-Party Group, and is intended to feed into the review of changes to Legal Aid Act made five years ago. The issues will include eligibility for financial assistance, family legal aid and the big delays and inequalities of arms in the family courts, and the problems around social welfare legal aid.
In the Lords (11am) the main debates are on subjects chosen by backbench Labour peers - how early intervention in children's lives that would improve their welfare, life chances and social mobility; on the steps being taken to reduce the number of problem gamblers and on the impact on family life of multiple reductions in welfare benefits, tax credits, housing benefits and child benefit.
Neither House sits on Friday.