Life inside No 10 Downing Street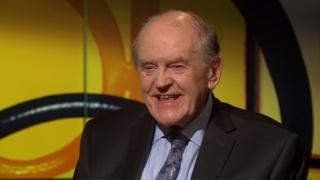 Frantic, frightening but "terrific fun" is how Robert Armstrong looks back at his time as the UK's most powerful civil servant.
He's one of five former cabinet secretaries to speak to BBC Parliament about working inside No 10 Downing Street - the scary moments, cabinet splits and the occasional lighter side of life.
As the title suggests, the job does involve acting as secretary to the cabinet, preparing the agenda for meetings and taking notes.
The more challenging aspect of the cabinet secretary's role is to advise - and sometimes soothe - the prime minister of the day.
"You had to keep your head," said Robert, now Lord Armstrong, who worked for the former Conservative Prime Minister, Margaret Thatcher in the 1980s.
"The pressure was intense and continuous."
Leave the cabinet
Between them, the five cabinet secretaries who spoke to Sue Cameron for BBC Parliament span over 30 years of British political life.
Some issues, though, never seem to go away.
Andrew Turnbull recalled how John Major, Conservative Prime Minister in the 1990s, had a "very difficult time with the Eurosceptics, the bastards as he called them".
As Theresa May tries to bring her cabinet together on Brexit, Lord Turnbull has some advice - set out the position, explain why it's best for the UK and tell ministers who are not prepared to sign up to leave the cabinet.
"That moment's got to come and it's a very, very difficult moment on top of all sorts of other problems," Lord Turnbull said.
'Terribly disorderly'
Lord Armstrong isn't impressed with the current cabinet set-up, saying: "I think it's terribly disorderly isn't it? It creates such a bad impression, not only in this country but in Europe. They don't know where we stand because of the inability of cabinet ministers to have a line and stick to it."
Meanwhile Robin Butler, cabinet secretary to John Major and briefly to Tony Blair, has some sympathy for Mrs May.
"I feel sorry for Theresa May. I feel that everything that can go wrong for the government does seem to go wrong for it."
In his view, at each step of the Brexit negotiations Mrs May has been persuading the "various camps" within the cabinet to be "realistic" and take the necessary steps to make the negotiations a success.
"She's being successful in that and I don't think she could do anything else," he concluded.
'Very wearing'
One infamous cabinet 'split' was the fractured relationship between Tony Blair and Gordon Brown when Labour came to power in 1997.
Lord Turnbull, who was cabinet secretary to Mr Blair, called it "very wearing" for both of them and recalled how things got harder in the second term of the Labour government.
He said: "Whereas they had largely divided up the subjects between them in their first term - there were what we used to call Tony's subjects and Gordon's subjects - then, second term, particularly on something like health, they were both competing on the same ground.
"I think it exhausted the pair of them."
'Sitting in a Rolls Royce'
Gordon Brown wasn't the only source of frustration for Tony Blair during his premiership.
One of his cabinet secretaries, Richard Wilson, told BBC Parliament: "I remember him saying to me 'I feel as though I'm sitting in a Rolls Royce and I don't know how to make it move'."
Lord Wilson wrote four memos on how to get the best out of the government machine, including advice to avoid following the "Napoleonic model of government".
It was a criticism that Gordon Brown was keen to avoid at the start of his prime ministerial watch.
But did he take it too far?
Gus O'Donnell recalled that at Gordon Brown's first cabinet meeting in 2007 every minister was encouraged to express a view on a range of subjects.
It slowed things down so much that Lord O'Donnell felt moved to scribble a note to Mr Brown along the lines of: "prime minister if we carry on like this we'll be here until midnight".
'Incredibly scary'
That was a lighter moment compared to what Lord O'Donnell called the "incredibly scary" financial crisis of 2008, as the government tried to "stop the crisis from being a complete meltdown".
He said: "Alistair Darling, as chancellor, was having the meeting with all the chairmen of the big banks and it wasn't just that one of them was going to be broke. None of them could have opened on that Monday morning without help from the Bank of England."
The government bailed out the banks to the tune of £500bn.
Evacuation
An even darker day was 11 September 2001 - the terror attacks in the United States. Amid fears of coordinated attacks around the world, Lord Wilson, cabinet secretary to Tony Blair, recalled: "I had images of a plane flying into Big Ben or down into Buckingham Palace."
He can remember, in detail, the somewhat farcical elements to that tragic day.
He decided to activate a new team set up to handle civil contingencies but they were on a "bonding" exercise in Yorkshire. It then turned out that the civil servants with the keys to the emergency Whitehall meeting room were en route to an away-day in Herefordshire.
Lord Wilson's thoughts turned to evacuation. One option was the tunnels that run under Whitehall. But there was a problem.
"The man who had the key to the tunnel was on holiday and nobody knew where he'd put the key," Lord Wilson revealed.
There were decisions to be made: closing small airfields, heightening security at Heathrow and shutting the City of London airport.
"'Close it down', I said, with authority which I really didn't address at the time. I was just concerned to make sure London was safe and that we looked after the people," recalled Lord Wilson.
"It was only afterwards that I thought: 'What have I been doing?'"