Week ahead in the European Parliament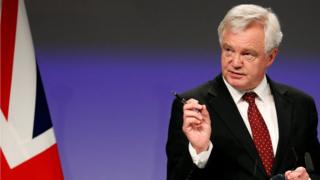 The European Parliament is back in Strasbourg this week for the first of two plenary sittings this month.
Brexit Secretary David Davis made cautiously optimistic noises last week over "decisive steps forward" in the Brexit negotiations.
EU Commission President Jean-Claude Juncker was more gloomy, claiming a "miracle" would be needed to move the talks onto trade soon.
Now it may be the turn of MEPs to add to the scepticism with a motion on the state of talks on Tuesday.
The draft recommends that, barring a "major breakthrough", EU leaders should not agree to open the next phase of talks at a meeting later this month.
MEPs can only make a non-binding recommendation but can contribute to the mood music emanating from the EU side.
Although they are not at the negotiating table, their imprimatur will eventually be required for any final deal to come into effect.
Events in Catalonia last weekend are not formally on the agenda, although the Green group says it wants a debate to take place.
This will only happen however if a majority of MEPs decide to amend the agenda when the sitting opens on Monday.
The EU Commission has said simply that "violence cannot be an instrument in politics", and described the vote as "not legal".
Here's what's coming up this week...
Monday
First up, MEPs will debate a proposal to transfer parts of an international agreement conserving various species of Atlantic tuna into EU law.
The new regulation will incorporate 28 recommendations from the International Commission for the Conservation of Atlantic Tunas (ICCAT).
The rulebook includes measures seeking to conserve about 30 different tuna and tuna-like species, as well as reduce accidental catches of seabirds and turtles.
An agreement on the regulation between MEPs and national fisheries ministers will be put to a vote on Tuesday.
In the evening there will be short debates on advisory reports from four of the assembly's committees.
This month's crop focus on economic opportunities for women, attacks on NGOs in developing countries and relations with ASEAN countries in southeast Asia.
There's also a report urging greater EU co-operation on the issue of cybercrime.
Among its suggestions is that legislation could one day be used to strengthen minimum requirements for online passwords.
Tuesday
The sitting will kick off with a debate on the MEPs' Brexit motion, which will be voted on just after 11.00 BST.
Both Jean-Claude Juncker and Michel Barnier are due to speak in the debate.
The main motion is backed by five of the eight political groups, including the two big centre-left and centre-right blocs.
Interestingly, it's the same quintet that controls the Brexit "steering committee" and provided the majority for the assembly's red lines in April.
This rather motley coalition currently includes Christian democrats, liberals, greens and a fair proportion of those in the socialist/communist group.
They have kept up a notably united front in their demands on the UK - so far.
After the voting session, MEPs will start up again with debates on relations with Moldova and tackling child marriage.
The afternoon will also see debates on EU "partnership priorities" with Egypt and the forthcoming UN climate conference in Bonn.
There will also be a debate with a European commissioner about the thousands of flights cancelled by Ryanair.
The airline stands accused of not properly informing passengers about their rights to compensation under EU law.
After an intervention by the Civil Aviation Authority, the company has now updated its website to explain how it will re-route customers.
In the evening, MEPs will debate a series of new EU safety requirements for passenger ships such as ferries.
They include an update of fire safety rules and new requirements for shipping firms to digitally register passenger details.
Wednesday
The morning session begins with a debate on the EU leaders' summit that will take place in Brussels later this month.
As well as formally deciding whether to move Brexit talks onto the next phase, they will debate migration, defence co-operation and relations with Turkey.
After the morning debate, the voting session will see MEPs vote on the new ship safety requirement rules they debated on Tuesday.
They will also decide whether to approve a decision by EU member states to allow Bulgaria and Romania to access information in the Visa Information System.
This would be a precondition for allowing the two countries to participate in a new border system for the Schengen area planned for 2020.
The two countries are not currently part of the passport-free zone - but Jean-Claude Juncker recently suggested they should be allowed to join "immediately".
In the afternoon MEPs will discuss whether the 2012 "fiscal compact" backed by 25 EU states should be incorporated into the EU's treaties.
The treaty requires states to incorporate balanced budget rules into their national legislation, and gives the EU's top court the power to fine those who break them.
An article in the treaty states that "necessary steps" should be taken to do this within five years of its entry into force in January 2013.
After this there's a debate on the latest annual report on EU spending from the bloc's auditing watchdog.
Last week the European Court of Auditors said that 3.1% of EU funds were mis-spent during 2016.
This is a drop on the 3.8% recorded for spending in 2015, but still above the body's 2% target.
The body also sounded the alarm over a huge backlog of outstanding payments that may need to be sorted in the next long-term budget from 2020.
In the evening they will debate legislation to set up an EU body charged with investigating and prosecuting cases of fraud against the bloc's budget.
A European Public Prosecutor's Office has been years in the making - having initially run into opposition after it was first announced in 2013.
The UK was among countries that expressed concern about the plans - and like Denmark and Ireland, has chosen to use its right to opt-out.
Having failed to reach the required agreement to set it up at an EU level, 20 member states have agreed to set up the body using a special procedure.
The new body will be based in Luxembourg, charged with overseeing special EU prosecutors in participating member states.
Some MEPs may pick up on President Macron's suggestion last week there should also be a European prosecutor for investigating organised crime.
Thursday
The morning will see a debate on an advisory report from the justice and home affairs committee about prison conditions in Europe.
The draft report notes that some 19th Century prison buildings are "no longer suitable for use" and overcrowding can lead to violence from prisoners.
It recommends that EU states invest in refurbishing prisons, prioritising smaller units and developing educational opportunities for inmates.
After that, they will debate this month's human rights motions on the Maldives, Tatar leaders in Crimea and albinos in Africa.
These motions will be voted on during the voting session, along with the legislation to set up a European budget prosecutor.
MEPs can accept or reject the proposal agreed by the 20 participating countries, but cannot amend it.
Please note: This agenda is subject to modification at the opening of the session on Monday afternoon.
A guide to how the European Parliament's plenary sessions can be found here.