Is the committee system finally up-and-running?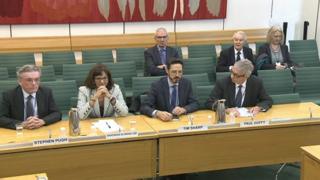 Rejoice! Barring a last-minute slip 'twixt cup and lip, the Commons select committees should be back in action next Tuesday after what most committee chairs regard as an unnecessarily long post-election hiatus.
A motion nominating the committees has been put down in the Commons today, and will be approved on Monday, and a number of committees will be holding hearings next week.
The non-appearance of this key part of parliamentary scrutiny of government was getting embarrassing - with Speaker Bercow administering a public telling-off to the government on Wednesday and telling the whips to "stop faffing about".
After intense pressure from the select committee chairs, who were all elected by the whole House back in July, the government and Opposition have essentially gone around the logjam over who should control the Committee of Selection (see previous post) to allow the committees to be confirmed directly.
I'm told there's still some debate about the exact size and composition of the key Brexit select committee, but that may well be resolved soon. And in any event the other committees will be able to get going and hold formal meetings from next Tuesday.
Follow-up inquiries
The hearings planned for next week by, among others, the Public Accounts, Work and Pensions and Culture committees (which would have had to be cancelled, with yet more embarrassment, if a way to kick-start the committee system had not been found) are mostly follow-ups to work from before the election; the key consequence of the delay in getting the new set of committees going is that they will not be able to agree new inquiries until Tuesday at the earliest.
That, in turn, means that it is unlikely that witnesses could be summoned to appear before the conference recess, which starts next week, so the hearings would not start until MPs return in October, and so major inquiries could not result in reports until the end of the year, or maybe next year.
Meg Hillier, who as the Chair of the Public Accounts Committee is one of the most senior denizens of the Committee corridor, says the rules should now be changed so the committee system is not left languishing for months after the next election.
Having worked hard to push the government into re-starting the committees this time, she doesn't want to have to repeat the exercise.
And nor do her colleagues.