Election 97: The first online election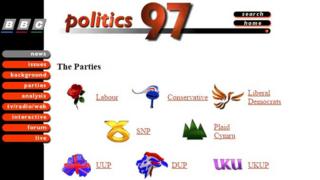 The 1997 general election was historic in many ways - not least that it ushered in a completely new way of covering the twists and turns of election night.
It was the first time the BBC had brought its election coverage not just to viewers and listeners, but to readers, in the form of a dedicated website.
In 1996, the General Household Survey indicated 26.6% of households had a home computer, and research carried out by Ofcom/ONS the following year showed only 9% of households had internet access.
Nobody was sure a website would work, or that anybody would read it. But it came to pave the way for the wider website which is now a fundamental part of the BBC's news reporting.
How was the website set up?
Election 1997 was the third in a series of experimental BBC websites as a small team of journalists, technicians and designers began to get to grips with a completely new medium.
The first site was set up to cover the 1996 Olympic Games in Atlanta and the second was devoted to the 1996 Budget.
Mike Smartt, a co-founder and later editor-in-chief of BBC News Interactive, recalls covering the then chancellor Ken Clarke's speech.
"I remember grabbing the first picture of Mr Clarke taking a sip of his favourite Budget-day whisky tipple from the TV coverage and pasting it into the front page - an operation which took about 30 seconds.
"It's old hat now but it was exciting stuff then."
He says presenter Peter Snow mentioned the website during the live television programme and, for the first time, people began to visit.
Numbers were "tiny" by today's standards, according to Mike, but it began to convince the then head of news - now BBC director general - Tony Hall, that there would be an online audience.
How did the site get online?
These days, the BBC has its own in-house content production system, which journalists use to draft, edit and publish hundreds of stories a day.
Back then, there was no such infrastructure. In Mike's words, "it was all a bit Heath Robinson".
He explains that a senior journalist on loan at the time from the BBC's Ceefax service, Richard Angell, produced pages of HTML code into which colleagues wrote stories and placed pictures.
"It was a time-consuming business fraught with danger as a single wayward backslash could corrupt a whole page, rendering it gobbledegook.
"But it worked and Richard remained, along with many of the other early pioneers, to see News Online launched properly, and way beyond."
Election 97 was also limited by the lack of bandwidth - with data pushed slowly down old copper telephone lines to dial-up modems - and this ruled out almost everything but low resolution still pictures and text.
However, Mike recalls there was some audio on the Election 97 site, and "although it sometimes sounded like a broadcast from 10,000 leagues under the sea - due to the dearth of decent bandwidth - it gave a hint of what was to come".
What happened on election night?
Bella Hurrell joined the BBC to work on the Election 97 site and is now deputy editor of visual journalism for News Online.
She had previously been working at the Times writing copy for CD ROMs and says, "I didn't know much about websites but then the setup was pretty basic.
"There was no tech support - if something went wrong you'd just lean over and ask whoever was nearest to you. Similarly, when we made animated gifs we used pictures of people on the team."
Sub-editors read copy "over the writer's shoulder", as opposed to the current system of drafts and approvals.
On the night of the election itself, Bella says: "We were busy from the off, and there was a sense you were there for a very historic moment.
"We were elbow-to-elbow in a sweaty little room in White City, and we took turns to write the main story, not knowing if anyone was reading it.
"At one point during the night John Birt and Tony Hall came to see us. I think they got it from an early stage.
"Colleagues in TV and radio didn't think badly of the online experiment, they just didn't think much about it."
She says in a sense the website's relative obscurity was to their advantage because it made possible "the type of innovation you can only try out when you're on the periphery".
Understanding of the internet was, even within the BBC, "sporadic at best", Mike notes.
"Most people were naturally concentrating on their demanding daily tasks in radio and TV whilst wondering what the team of 'nerds' at the top of the building was up to.
"It is fair to say that many whose radar had not hitherto been disturbed by digital journalism become aware of it through Election 97."
What happened afterwards?
Mike Smartt says the election site was used by a growing number of people and the decision was taken to carry on by turning it into a general politics site.
Three months before the official launch of BBC News Online in November 1997, Diana, Princess of Wales, was killed in Paris and a site was quickly put together to cover the aftermath.
These pre-launch tests provided the nascent online team with valuable experience in the new medium.
As other major broadcasters and national papers established their own online presence, there was a growing awareness that something "rather important" was happening to the way news would be published and consumed in future.
Bella, who has worked on the BBC's online coverage of every general election since 1997, points out that some features of the early site are still hallmarks of the BBC's coverage, including interactive features and an informal tone.
But the jury is still out on whether the BBC will return to the regular use of gifs in its election coverage.