Looking ahead to EU summit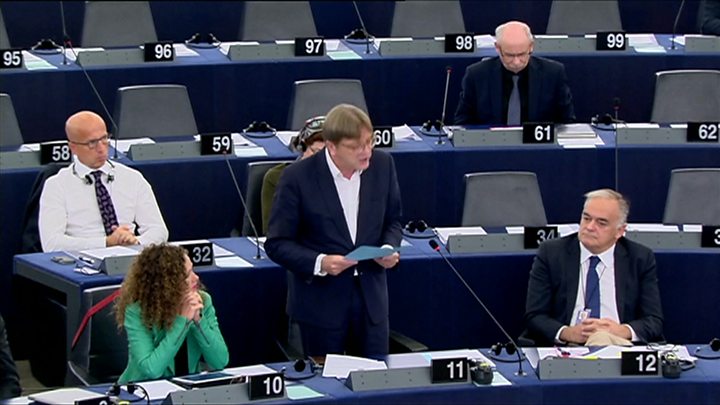 In the European Parliament in Strasbourg on Wednesday morning, MEPs debated this month's summit of EU leaders.
It will be the first such meeting that Theresa May will attend as prime minister.
As well as migration and relations with Russia, leaders are due to debate the future of EU trade policy, after some opposition to the ratification of an EU trade deal with Canada and the stalling of trade talks with the United States.
However the future of Brexit talks also loomed large during the debate, with Parliament's negotiator Guy Verhofstadt calling for talks to be wrapped up before the assembly's next set of elections in 2019.
Although he said the UK should continue a "close" relationship with EU, he repeated his insistence that any deal must respect the indivisibility of the bloc's four freedoms - which includes freedom of movement.
UKIP's Nigel Farage did not speak during the debate, but still managed to feature as a topic of conversation.
German MEP Manfred Weber, who leads the Parliament's largest political group, said the falling value of the pound means the UK economy has slipped behind France - and used it to suggest that Mr Farage's campaign has proved a "costly item" for Britain.
However UKIP MEP Tim Aker said that pessimistic predictions made about the future of the British economy have "unravelled" since the vote.
Mr Farage also received some support from French Front National leader Marine Le Pen, who said the interim UKIP leader had been the victim of "obsessive" attacks in the chamber.