Brexit: October 'too late' to start Brexit talks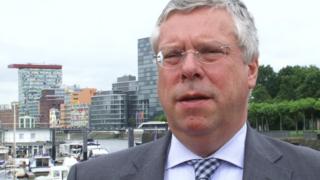 A senior member of Angela Merkel's ruling party says October would be "too late" to invoke article 50.
That is the step which formally triggers the start of a two-year negotiation on the UK's withdrawal.
Speaking to Newsnight, Jurgen Hardt, the CDU's European affairs spokesman, said the party is "irritated" with the UK's "lack of ability and willingness to take responsibility".
David Cameron says it's for the next prime minister to invoke article 50.
When he announced his resignation in the early hours of Friday morning, Mr Cameron said he would stay on until the Conservative Party conference in October.
Mr Hardt's comments come on the same day that other Christian Democratic Union chiefs, Ursula von der Leyen - defence minister and thought of by many as a future leadership candidate - and Michael Fuchs, a senior parliamentary CDU figure, also signalled a tough stance on Brexit.
Ms von der Leyen told a German TV station that she did not believe that Britain would be readmitted to the EU in her lifetime if it presses ahead with Brexit.
Her remarks and those of Mr Hardt are probably designed to prompt people in the UK to think again while they still can. Mr Hardt said, "we invite the British government and people to stay in the European Union".
Mr Hardt says that the idea that the UK could retain access to the EU's single market, while changing its rules on the free movement of people was, "not a realistic option".
At the weekend, German Chancellor Angela Merkel said the European Union has "no need to be particularly nasty in any way" in the negotiations with the UK about its exit from the bloc.
She insisted that deterring other countries from leaving the EU should not be a priority in the talks. And she added she was not in favour of pushing for a speedy withdrawal.
The former mayor of London, and leading Brexit advocate, Boris Johnson - widely regarded as a favourite to become the next UK prime minister - has suggested that Britons could continue to work and study in the EU, while Europeans wanting to work in the UK would be subject to a new, points based, immigration system.
The CDU's European affairs spokesman says that, given the stance of the Brexit campaign's leaders, he felt they would not want access to the single market because that would mean full compliance with EU rules and regulations.
Rather, Mr Hardt suggested, it was likely that the UK would negotiate trading terms similar to those Canada is close to concluding.
Echoing a statement made by German finance minister Wolfgang Schauble a few days before the referendum, Mr Hardt said: "In is in and out is out."
Mr Schauble also explicitly ruled out British trade on the same basis as Switzerland or Norway - models that are popular with some Brexit campaigners.
Mark Urban is diplomatic and defence editor for BBC Newsnight. Watch his report on the programme at 22:30 BST on BBC Two.