EU referendum: Surrey's mixed vote 'reflects divisions'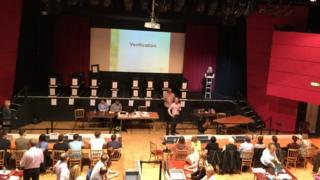 Five of Surrey's districts and boroughs voted to leave the European Union and six have voted to remain.
Reigate and Banstead, Runnymede, Spelthorne, Surrey Heath and Tandridge all voted to leave the EU.
But Elmbridge, Epsom and Ewell, Guildford, Mole Valley, Waverley and Woking voted to remain.
Surrey bucked the national trend with 52.2% voting for Remain and 47.8% for Leave. Overall, England voted 46.6% for Remain and 53.4% to leave.
EU referendum in the South East
BBC Surrey's political reporter Jack Fiehn said the county's mixed picture reflected divisions shown in the poll across England.
"What you're seeing is just over 50% wins for Leave and Remain in the various boroughs and districts, but it is a very divided picture," he said.
"And again, the MPs were divided. Most of the MPs were for Leave, people like Michael Gove and Chris Grayling, but there were plenty for Remain, like Philip Hammond, Jeremy Hunt - some big names on either side.
"They tended to avoid tackling each other. There weren't the Conservative rows. They were pretty amicable."
Find the result in your area
He said Guildford's Conservative MP Anne Milton revealed overnight she had voted for Remain - she was previously one of only nine MPs who had not declared which way they would vote in the referendum.
After the country voted to leave, she said: "Britain will carry on, get on. The Conservative government has got to get on.
"We've got some governing to do. We'll see what tomorrow brings."
BBC Surrey went to Cobham Services on the M25 to test reaction after the results were declared.
'Brain drain' fears
A Margate man said he objected to being told what to do by the European Union and voted to leave but his wife, who voted to remain, asked: "Why fix something that's not broken?"
Two Croydon work colleagues also cast opposing votes - one voted Leave in the belief the country should make its own decisions, but the other voted Remain because of a lack of information about what would happen if the UK left the EU.
An older man who remembered the UK before it joined the EU and voted to leave, said: "We knew what it was like before we went in. We were all right then, so why can't we be all right now?"
But a friend travelling with him said his company traded internationally and he voted to remain based on the economy.
Ian Ginn, who was born in Switzerland, grew up in Germany and runs a business in Egham, said it was "a close thing" between the campaigns and 29% of people did not vote, so he was not sure Vote Leave had the mandate they thought they had.
He said young people were already talking on social media about leaving the country and added: "Let's not worry about immigration, let's worry about emigration of talent out of this country, because it's going to be on a relatively big scale."
Surrey saw high-profile politicians taking part in the debate, with four cabinet ministers in the county.
Foreign Secretary Philip Hammond, the Runnymede and Weybridge MP, and Health Secretary Jeremy Hunt, the MP for South West Surrey, campaigned to remain.
Justice Secretary Michael Gove, Surrey Heath MP, and Commons Leader Chris Grayling, Epsom and Ewell MP, backed leaving the EU.
Turnout across Surrey was high with more than 82% in Mole Valley and Waverley.