EU Referendum: Northamptonshire voters back Brexit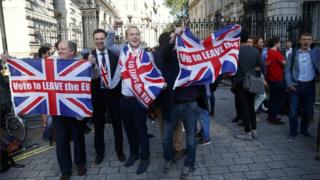 All seven districts in Northamptonshire have voted to leave the European Union.
The turnout in the county was 390,967, with 231,224 (59%) people voting to leave. The remain side received 159,743 (41%) votes.
The result prompted the resignation of Prime Minister David Cameron as nearly 52% of votes cast nationally were in favour of leaving the EU.
Tory MP Philip Hollobone said Mr Cameron's behaviour in the campaign had been "nothing short of a disgrace".
Mr Hollobone, who backed Brexit, said: "The spin that the government has put on this campaign has been quite disgraceful, trying to scare the British people in voting to stay.
"I think it's right now that the prime minister has lost for him to stand down.
"I think he's been a good leader of the Conservative Party, I think he's been a good prime minister, but his behaviour during this campaign has been nothing short of a disgrace."
Corby had the highest percentage of Leave voters, with 64.2%, while South Northamptonshire had the highest remain share at 45.7%.
MP for Northampton South, and remain campaigner, David Mackintosh issued a statement saying he is "very sad" David Cameron his resigned, but that "he can be proud of his legacy".
He added: "The task now is to unite the country and to get the best deal possible."
Follow updates on the Northamptonshire EU Referendum vote
Nationally, the Leave campaign won the referendum with 51.9% of the votes to 48.1%.
Find the result in your area