EU referendum: All bar Norwich vote Leave in Norfolk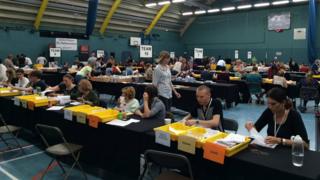 Norwich bucked the trend in Norfolk to vote to remain in the European Union, with 56.2% wishing to stay.
Great Yarmouth had the highest proportion of leave voters of the seven districts, with 71.5% backing Brexit.
Conservative MPs in the county paid tribute to David Cameron after news broke he planned to step down by October.
Keith Simpson, Tory MP for Broadland, said he thought the prime minister would see it as a "personal defeat".
He said: "I am not surprised that he is going to stand down... I think he will regard it as a personal defeat - he put his prime ministerial authority on the line."
County-wide, the average vote stood at 58.7% wishing to leave the EU.
The other six districts all voted to leave, with South Norfolk having the narrowest of majorities, at 51.7%.
Read this and more stories from Norfolk
Reacting to the vote, Conservative MP for Norwich North, Chloe Smith said: "We all need to come together and work for what is best for our own constituencies and our own country - we are one country we are one Great Britain and let's stay that way," she said.
Lib Dem MP for North Norfolk Norman Lamb said he believed Mr Cameron's resignation was inevitable.
"If you put a case to the nation and your authority rejects it, your authority drains away."
Mr Lamb, who served in the coalition government, said: "Despite some of the stupidity and excesses of the campaign...in the end we will look back and say - with a very high turnout - that the Great British electorate has undertaken a democratic process."
Find the result in your area