Staffordshire reacts to Brexit vote to leave the EU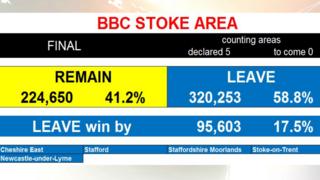 Staffordshire echoed the national trend in voting to leave the European Union.
More than 65% of Stoke-on-Trent turned up at polling stations with 81,563 backing Leave, compared to 36,027 supporting Remain.
Conservative MP for Lichfield, Michael Fabricant said: "Brexit is clear for our future prosperity and independence."
Ruth Smeeth, Stoke-on-Trent North Labour MP, who backed Remain said voters had "rejected the status quo".
More on this and other Stoke and Staffordshire stories
Nationally, 52% of Britain voted for Brexit.
Sir Bill Cash, a long-time Eurosceptic and MP for Stone, said he was "absolutely delighted" with the result, which he claimed would give British people the power to govern themselves.
Lord Bamford, chairman of JCB, also backed leaving and called for British businesses to "look to the future".
He said: "The UK is the world's fifth largest trading nation. We therefore have little to fear from leaving the EU.
"European markets are important to many UK businesses, including JCB, and this will not change.
"As a consequence of this momentous decision, we should look ahead to opportunities to trade more freely with the rest of the world, as well as building on existing trading relationships with customers and suppliers in Europe."
'Europe a scapegoat'
Ms Smeeth had backed the Remain campaign, but acknowledged her constituents "overwhelmingly" backed leaving the EU.
She said the Labour party needed to take stock and address long-running concerns over jobs and immigration in the Potteries.
"I think [voters] were rejecting the current status quo in a number of areas," she said.
"Politicians haven't done enough for them over time, and Europe is an easy scapegoat."
However, Laura Cohen, chief executive of the British Ceramics Confederation, said the choice to leave was not what her members had wanted.
"There's going to be uncertainty for some time.
"We've seen the start of market uncertainty, there's certainly going to be political and economic uncertainty."
A spokesman for Bentley Motors, based in Crewe, said it "respects the outcome" of the referendum and will work with the government and motor industry on securing "a positive future".
Fred Hughes, a historian based in Stoke-on-Trent, backed remaining in the EU, and said Labour did not do enough to convince its members.
"It's a depressing result. I see myself as European, I see the future in unity, and I don't see it in isolation and looking inwards.
"Economic issues we can get over, but we can't look into ourselves and become Little England."
Barry Proctor, who runs a haulage firm in Talke, said he wanted to leave the EU because of what he believed were unnecessary regulations.
"Every journey starts with the first step and today we have taken that first step," he said.