EU referendum: Sussex votes narrowly for Brexit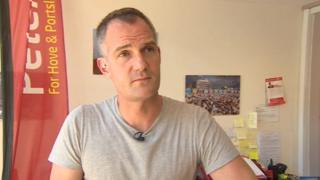 Most areas in Sussex voted to leave the European Union, although some rural areas and Brighton bucked the trend.
It was a narrow victory overall for the Leave camp with 50.23% of people in the county voting for an exit and 49.77% wanting to remain.
In Brighton & Hove, 68.6% of voters cast a vote for Remain, while 31.4% sided with Leave.
Crawley MP Henry Smith said he was delighted but not surprised by the "momentous" result.
Hove Labour MP Peter Kyle attacked Jeremy Corbyn's leadership and said his party had to "take a decision" in "the coming days, not weeks" about how it went forward.
He said he did not think Mr Corbyn was the person to address the concerns of former Labour voters who were "angry" and had "shunned" them.
"They are talking about us in the most extreme terms. We need to connect with parts of the country that have been left behind.
"None of us need to sit here as Labour people and sneer at the people who voted to leave Europe," he added.
EU referendum: South East live page
Brighton Pavilion Green MP Caroline Lucas said she was "heartbroken" and "devastated" by the Brexit decision.
In Arun just 37.5% wanted to remain in the EU, compared to 62.5% of voters who opted to leave.
Lewes, Horsham, and Mid Sussex also hoped to remain in the union but all other areas voted to leave.
Mid Sussex MP Nicholas Soames warned: "We no longer have the voice that we did at the top table of 500 million people in 28 countries and I think that is a pity.
"We will make the most of it but if people think it's going to be an era of spitfires and white cliffs they have got another thing coming."
---
Analysis: BBC political reporter Benjamin Weisz
Just 22 miles separate Crawley and Brighton. But today's result reveals them to be worlds apart politically.
Nearly seven in 10 people in Brighton voted Remain - some taking to Twitter to demand a second referendum on the independence of the People's Republic of Brighton and Hove. Some, perhaps, weren't joking.
But similarly impressive victories were scored by Leave campaigners in Crawley, Hastings and Rother.
The county bridges some big political divisions and the referendum has thrown them into sharp relief.
Turnout was huge - 77% countywide. Thousands who don't normally bother come election time chose to make their voices heard.
And it wasn't just the leafier parts exercising their democratic right. Turnout was also high on estates from Lancing to St Leonards.
---
In Crawley, 58.4% of people voted to leave the European Union.
Mr Smith said: "People have felt the EU has become more and more remote from its everyday concerns yet meddles in people's everyday lives, so whilst this is a momentous occasion, I am not totally surprised by it."
Ms Lucas said the vote revealed "massive divisions within our country".
She said: "It feels like there is such levels of alienation and anger and frustration which is a real wake-up call to Westminster."
Nick Herbert, MP for Arundel and the South Downs, tweeted: "Disappointed by result but the people have spoken and Britain now takes a new course.... now we come together with fellow Conservatives and help take our country forward."
Conservative MP for Bognor Regis and Littlehampton Nick Gibb, said Britain could and should "rise to the challenges that will face us over the next few years".
He said detailed work now needed to begin to ensure the best possible trading arrangements are put in place between the UK and EU.