EU Referendum: Narrow Remain vote in Leeds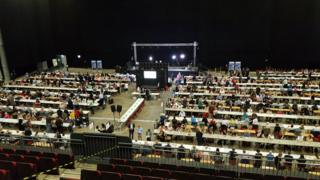 Leeds has delivered a narrow win for Remain campaigners but all other parts of West Yorkshire followed the national trend and backed Brexit.
Turnout in the city was 69.60%, with 50.3% voting to stay in. Remain campaigners calling the results disappointing.
The area with the highest support for Leave was Wakefield at 66.3%.
Its MP, Labour's Mary Creagh, said the party should have "moved earlier" to push the Remain message.
As the result became clear, she tweeted: "I'm sorry".
Leave supporter and Conservative MP for Morley and Outwood, Andrea Jenkyns, said the result was "great for democracy".
Almost 52% of people in the UK voted to leave the European Union.
Follow the latest news on how West Yorkshire voted
In the Yorkshire and Humber region as a whole, 57.7% of voters backed Leave.
The biggest shock was in the Labour heartland of Bradford, where more than 54% voted Leave. Similar results were seen in Wakefield, Kirklees and Calderdale.
Ms Jenkyns said: "I've been getting around the constituencies and there has been that feeling that we would vote out.
"Yorkshire has spoken and I'm just ecstatic."
Ms Creagh, who campaigned for Britain to remain in the EU, called the result a "symptom of our divided country".
She said: "We're seeing a country which is divided on the basis of geography, on the basis of class, on the basis of age.
"The indicators are that young people predominantly voted to remain and on the basis of gender, certainly the women I spoke to across Wakefield today were backing remain."
Analysis, BBC Look North political editor Len Tingle
There was some surprising votes here in Yorkshire.
The theory from the Remain side was that they had already written off certain areas where they knew that they had got a bit of a problem - older industrial areas where there was an expectation they would vote against the conservative government.
The other reason, was these were other areas where UKIP had made in-roads over the past few years, so those areas had been written off.
The expectation was the remain side would claw back those votes, particularly from the big cities - that Leeds, York, Sheffield and Bradford would be its saviour.
We saw Leeds voting to remain, but only just. Bradford was expected to be a relatively large majority for remain, it turned out to be a small majority for the other side.
Philip Davies, Conservative MP for Shipley, said: "I'm absolutely elated, I can scarcely believe it to be perfectly honest.
"I made a speech at the Conservative Party conference in 2005 to say we should leave the EU.
"If somebody had said to me then that 11 years later we would be out, I would have said that they were crackers, so it's amazing."