Coventry Cathedral: Brexit result will leave 'strong emotions'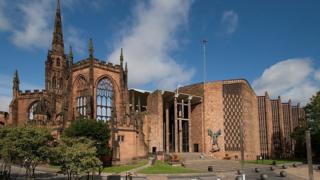 The Dean of Coventry Cathedral says the EU referendum result will leave strong emotions, as Coventry and Warwickshire mostly voted in favour of Brexit.
North Warwickshire backed the Leave campaign with a decisive 67% of votes.
In Stratford-upon-Avon, the results were much closer with the Leave camp winning by a 4% margin, while in Coventry 55.6% voted for Brexit.
Warwick was the only area in the region to support Remain with 58.8% in favour of staying in the EU.
More on this and other Coventry and Warwickshire stories
Coventry Cathedral, which had earlier said it was backing the Remain campaign, said it knew the decision would leave many people with strong emotions and that it was opening a special place for prayer over the weekend.
The cathedral, rebuilt after being bombed during World War Two, has close links with many European cities, including Dresden in Germany.
The Dean, the Rev John Whitcombe, said the cathedral had a proud record of working to build bridges across Europe.
"We have learnt the value of improved international understanding," he said.
"Whilst this is a political and structural decision, we are confident that we can still continue the important work to bring nations together and celebrate our shared history."
Prayers can be held at the Kiel candle stand, he said.
News of Britain's EU referendum result and the Prime Minister's resignation has filtered through to Glastonbury.
Festival goer, Jonnie Bevan, 21, from Coventry, said that the vote seemed an anathema to the atmosphere of the festival.
"We are all pretty disappointed - Glastonbury's vision of unity doesn't really seem to fit with this," he said.
Car industry reaction
Jaguar Land Rover, which has bases in Gaydon, Warwickshire, and Whitley, Coventry, has given its reaction to the result, saying: "Today is just business as usual."
Last week, the manufacturer wrote to its employees warning of the possible consequences that leaving the European Union could bring.
The company says it "remains committed" to all its manufacturing sites and customers in the EU.
At least 50,000 people work in the car industry in the West Midlands.
---
George Duggins, Labour leader of Coventry City Council, backed Remain and said: "They [voters] felt they should've had change last year at the General Election. It simply didn't happen.
"I think there's a negativity around Europe and I also think they wanted a change in government."
Reacting to David Cameron's announcement to step down, Tory MP for Kenilworth and Southam, Jeremy Wright, said "he'll be sadly missed" but "the British people have given a clear verdict on our membership of the EU", and "we've got to get on and implement this now".
Two-thirds of voters in Nuneaton and Bedworth backed leaving the EU with 66% of the vote, despite local MP Marcus Jones campaigning for Remain.
Rugby backed Remain with 56.7% in support.