EU referendum: Leave success in North Yorkshire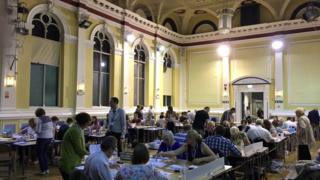 Voters in North Yorkshire have backed the national decision to leave the European Union.
Only people in York and Harrogate supported remain, by 51% in Harrogate and 58% in York.
Leave supporter Nigel Adams, Conservative MP for Selby and Ainsty, said the results promised a "brighter future for Yorkshire and Britain".
In the Yorkshire and Humber region, 58% of voters backed leave. Nationally, 52% of people voted for Brexit.
Mr Adams added: "On a big issue like this you have to say to the people of Yorkshire, 'this is your call'. The reality is Yorkshire has said, 'no, we want to leave the EU."
Follow the latest news on how North Yorkshire voted
The first area in Yorkshire to declare a result was Craven, which returned an 52.8% majority in favour of leaving the EU.
In Hambleton 53.% of the electorate backed Brexit while in Richmondshire, the Leave campaign secured 56.8% of the vote.
The Leave campaign also triumphed in Ryedale, Scarborough and Selby, where results in favour of leaving were 55.3%, 63% and 59.2% respectively.
'Monumentous decision'
Kevin Hollinrake, Conservative MP for Thirsk and Malton and Remain campaign supporter, said he believed people's view on migration was the deciding factor.
"People were very concerned, particularly about migration," he said.
"I think we've ignored it for too long and we have now the opportunity to deal with that.
"Obviously, I felt this was the wrong decision for the overall economy and I've had a number of constituents contact me already who are very worried about their jobs and their businesses."
Neil Carter, a professor of politics at the University of York, described it as a "monumentous decision".
He said: "I think that people on all sides of the argument just can't really anticipate the implications of it, because we just don't know."
Rachael Maskell, Labour MP for York Central, told BBC Radio York she fears the decision to leave the EU could lead to the break up of the UK.
"It's not just the break up of the EU, it's the break up of the United Kingdom," she said.
"What we've seen is a ramping-up of fear in our communities and it's absolutely essential that we pull together now with common purpose and unite."