EU Referendum: Yorkshire results back leave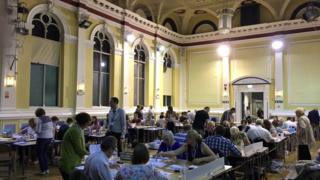 Results in Yorkshire and Humber show the region has voted in favour of leaving the EU - backing the national outcome.
Sheffield became the first major city to declare a narrow victory for leave, coming after strong support for leave in rural parts of the region.
After the declaration UKIP leader Nigel Farage tweeted: "Sheffield votes to Leave EU. Amazing stuff. Delighted."
Leeds voted to remain by a narrow margin, with 50.3% wanting to stay in.
The margin in Sheffield had been almost as slim with 51% of voters backing leave. Turnout in Sheffield was 67.3%, while in Leeds it was 71.3%.
Leave campaigners had told the BBC earlier they were expecting to win Yorkshire and Humber "by a country mile".
Follow the latest news on the BBC's live EU referendum page
The region's first result of the evening came in Skipton, North Yorkshire, when Craven backed leave.
It was followed by similar results in Richmondshire, Scarborough, Ryedale, North East Lincolnshire, the East Riding of Yorkshire, Barnsley and Doncaster.
Leave also won in Hull, Bradford, Hambleton, North Lincolnshire, Rotherham, Wakefield, Calderdale, Kirklees and Selby.
The only other areas to back remain in Yorkshire were Harrogate, where 51% of people voted remain on a turnout of 78.9%, and York, where 58% of people backed remain on a turnout of 70.6%.
Labour MPs in the region who backed remain have told the BBC the result in Yorkshire is "disappointing".
Mary Creagh, MP for Wakefield, said the party should have "moved much earlier" to get the remain message over to Labour voters.
But Nigel Adams, the Conservative MP for Selby and Ainsty, campaigned for leave and said the results promised a "brighter future for Yorkshire and Britain".