Jersey chief minister says falling pound 'good for islands'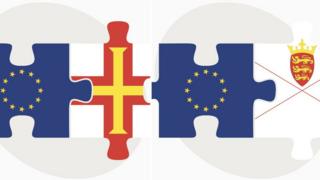 A falling pound post-Brexit "could be good for Jersey", according to the island's chief minister.
Speaking after Britain voted to leave the European Union, Senator Ian Gorst said a weaker pound usually brings more tourism to the island.
External Relations Minister, Sir Philip Bailhache, said the island had been preparing for Brexit for months.
Guernsey and Jersey governments hope to negotiate with the EU to maintain their status as "third countries".
Mr Gorst said: "Historically when the value of the pound has fallen that has brought new business to Jersey because it made us more competitive.
"When the value of the pound falls it brought more tourists from Europe because it is better value for them. There are opportunities in this for Jersey."
In a statement, Guernsey's government said: "The majority of Guernsey's trade is through the UK and this trading relationship is not in question.
"However, in order to remain as stable as possible, Guernsey will need to seek to replace the current trading relationship in goods with the EU with some other arrangements.
"This will be dependent on the new relationship that the UK seeks with the EU."
Geoff Cook from Jersey Finance, the body responsible for promoting the island's finance industry said Jersey was well placed to deal with any market turmoil.
"We remain convinced that the UK's long-term position as a financial services powerhouse will continue," he said.
Sir Philip told island residents from EU countries such as Poland and Portugal that their status was unlikely to change.
He said: "I have little doubt the ultimate arrangements with the EU will be such that it will enable other people from the EU to come to Jersey as they have in the past."