Reality Check: It's Wembley EU referendum debate bingo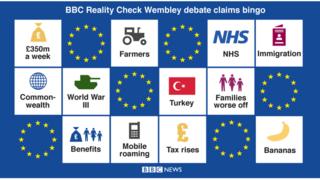 It's more exciting than the Cup Final - the final EU Referendum debate is coming live from Wembley on Tuesday evening.
With less than 36 hours to go until polls open, both sides will be getting one more chance to put their case for you to vote Leave or Remain.
You can watch it live on BBC One from 20:00 BST.
And to make it more fun, you can play along with EU claims bingo.
Each time a participant mentions one of the things in the grid above you get to check it off.
And if you want to find out more about the topics on the card, you can follow the links below.
---
Read more: The facts behind claims in the EU debate
---