Scottish EU referendum campaigns focus on women's rights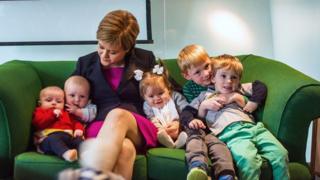 Campaigners in Scotland have clashed over the impact that the UK leaving the European Union would have on women's and worker's rights.
First Minister Nicola Sturgeon said women "in particular" had benefitted from reforms thanks to EU membership.
However, Leave campaigner Ross Thomson said these rights would not "disappear" in the event of a Brexit.
Meanwhile, Scottish Tory leader Ruth Davidson is to feature in a BBC referendum debate at Wembley Arena.
Ms Davidson will be arguing for a Remain vote, alongside Frances O'Grady of the Trades Union Congress and London Mayor Sadiq Khan. They will debate the issues of the referendum with a Leave team made up of MPs Boris Johnson, Andrea Leadsom and Gisela Stuart.
Campaigning in Edinburgh, Ms Sturgeon said the EU protected women from a "relentless assault on rights in the workplace" by the Westminster government.
'Crucial bulwark'
She said: "Being part of Europe is good for everyone in Scotland - but women in particular have benefitted from a series of progressive reforms and the crucial rights which our EU membership has guaranteed.
"When the Leave campaign talk about reducing regulation or red tape what they're actually talking about are some of the rights women in Scotland have come to take for granted - the right to paid maternity leave, protection against discrimination and the right to equal pay.
"The current Tory government is engaged in a relentless assault on rights in the workplace - and it's only the crucial bulwark of the EU which has prevented them going even further."
Ms Sturgeon said that with polls across the UK tight, "Scotland has a real opportunity to play a decisive role in the outcome".
Campaigning in Aberdeen, Tory MSP and Leave supporter Ross Thomson said Ms Sturgeon's claims were "extraordinary", saying rights had not been protected by the EU.
Mr Thomson said: "Look at the EU itself. There are five presidents of the EU, and not a single one of them is a woman.
"Workers rights have not been protected within the EU. There's been this claim that somehow if we vote to leave, all the protections we've got already would somehow disappear. Of course that's not the case.
"We need to bear in mind that Britain has been one of the most progressive countries in the world for worker's rights, from Peel, Salisbury, Baldwin and Disraeli, who brought forward rights for workers, to think that somehow all of that is going to change by taking power back from Brussels, I don't believe it.
"I think that actually by taking powers back from Brussels and ensuring we have control over our own future, we can ensure Britain is still a progressive country where workers have rights and all of that is still protected."