EU referendum: Final pitches for undecided voters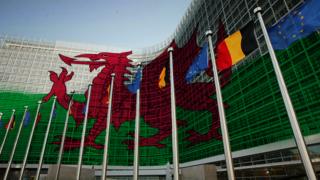 Politicians are making their final pitches to undecided voters in Wales before Thursday's EU referendum.
In Denbighshire, Commons leader Chris Grayling sought to reassure firms trade with the EU would continue post-Brexit.
But, campaigning in Flintshire, Welsh Secretary Alun Cairns said only EU membership could guarantee access to the European single market.
Leave and Remain politicians will take part in a BBC Wales television debate at 20:00 BST on BBC One Wales.
Visiting a farm in Ruthin, Mr Grayling urged voters not to be afraid to vote to leave the European Union, promising the UK would become a "stronger, prouder more independent nation".
"We carry on trading - they [EU member states] buy our products, we buy their products," he said.
"We do that because we are their biggest customer.
"They can't afford to lose us - they have thousands, millions of jobs that depend upon us buying their products.
"So you shouldn't be afraid of voting to leave, you should be excited by the opportunities that leaving presents ... able to take our own decisions about trade agreements around the world, able to limit the flow of immigration into the United Kingdom, able to make our own laws again."
Speaking at the Toyota plant in Flintshire, Mr Cairns said unrestricted access to the European market was "so important" for the firm.
"The only way we can guarantee that access is through remaining a member of the single European market, remaining a member of the European Union.
"That's what I want to do, that's what businesses generally want to do.
"That's what the independent observers, economic think tanks, they all recommend that we stay a member of the single European market through being a member of the European Union."
Later, First Minister Carwyn Jones joined Labour leader Jeremy Corbyn, Scottish Labour leader Kezia Dugdale and Labour Mayor of London Sadiq Khan at a joint rally urging party supporters to vote Remain.
The BBC Wales EU Referendum Debate on Wednesday evening will be broadcast just hours before the polls open and also air on BBC Radio Wales from 20:00 BST.
It will be presented by Bethan Rhys Roberts from Cardiff and Vale College.
Mr Jones and Plaid Cymru leader Leanne Wood will put the case for Remain, while Tory MP David Davies and UKIP Wales leader Nathan Gill will speak for the Leave campaign.