Tories' economic focus as EU campaign nears end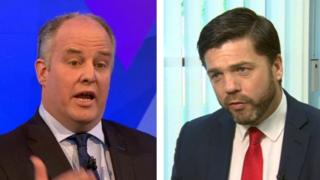 Two senior Welsh Tory politicians have made competing claims on the economic impact of leaving the European Union.
Work and Pensions Secretary Stephen Crabb has warned that a Brexit vote would hit the poorest the hardest.
Meanwhile, Andrew RT Davies, Welsh Conservative leader, said Britain's membership of the EU undermined efforts to tackle steel dumping.
EU referendum campaigning is nearing its end with the poll taking place on Thursday.
Mr Crabb, a former Welsh Secretary and MP for Preseli Pembrokeshire, told BBC Wales: "The truth is, you look at what's happened in every previous recession, the people and households who are hurt the most are those on low incomes; people in blue collar trades, people working in the construction industry, in manufacturing.
"They will be at the front of the queue to feel the economic pain if we quit the EU."
The Remain campaigner also launched a defence of immigration, accusing the Leave campaign of telling "untruths" about the issue.
He said: "We should really confront this untruth that people who come to this country wanting to work are somehow a drag on our economy.
"Actually they are helping to boost the Welsh economy."
But Welsh Conservative leader and Leave campaigner Andrew RT Davies claimed that the EU was having an "insidious impact on the viability of local jobs".
On Tuesday he visited steel coating firm Coilcolor in Newport, which Vote Leave said had lost around 90% of its business due to what they claim to be "unfair competition" from imported European steel coil.
Mr Davies said: "It is clear that Britain's membership of the EU has dramatically undermined the best efforts of the UK Government to tackle the issue of Chinese steel dumping.
"We are constantly force-fed the line that Britain benefits from being part of a bigger market in the form of the EU.
"But it is also deeply worrying from a domestic point of view to hear about the impact that our EU membership has on other parts of the steel industry; and in particular smaller firms like Coilcolor who are being pushed to the edge by Britain's membership."
Meanwhile former Labour leader Lord Kinnock joined First Minister Carwyn Jones on the steps of the Senedd in Cardiff Bay on Tuesday in a gathering of Labour AMs calling for a vote in favour of remaining in the EU.
Mr Jones said Wales had been successful in attracting investment from around the world because it gave companies access to the European market.
"We could inflict on ourselves the most dangerous wound imaginable on Thursday if we leave the EU," he said.