Reality Check: Would households be £1,300 better off in EU?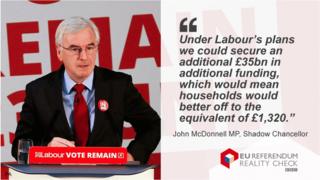 The claim: The UK could get extra funding from the EU worth £1,320 per household.
Reality Check verdict: The money Labour is referring to is a target for mainly private sector investment to fund infrastructure. It is hard to think of that directly making households financially better off.
Labour's John McDonnell and Gordon Brown got together on Thursday to explain how staying in the European Union could mean the UK getting lots of extra funding for infrastructure.
They based this on the Juncker Plan, which they said aimed to boost infrastructure spending across the continent by €320bn (£250bn) via the European Investment Bank.
They point out that the UK's share of the EIB's capital is 16%, so a fair share of the additional investment is 16%, which they translate into £35bn for the UK or £1,300 per household.
The Juncker Plan was announced in November 2014 and criticised at the time by the European Trade Union Confederation as "relying on a financial miracle like the loaves and fishes".
The €320bn figure used by Labour should be €315bn.
The €315bn includes €21bn from the EU and European Investment Bank (EIB).
This is the only actual money being put up by the EU.
Mr Juncker predicted that the EIB would lend another €63bn.
Private investors would then contribute €231 to produce the total of €315bn.
That €315bn is an ambition for total levels of investment, a small part in loans from the EIB but most of it from private investors.
It is not a funding commitment.
John McDonnell has then converted the UK's share of the money into money per household, suggesting that is how much they would be better off.
This is hard to justify, as the benefits of such infrastructure projects would not be evenly distributed across all the households in the UK.
And if such benefits could be quantified, they would not be a simple share of the project's original cost.
They would be indirect and could be more or less than the amount of money originally invested.
---
Read more: The facts behind claims in the EU debate
---