EU referendum: Leave Tories attack 'scare stories'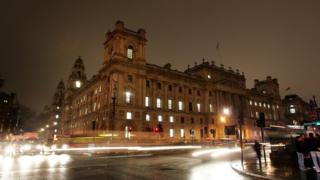 Senior Conservatives have accused the Bank of England and the Treasury of "peddling phoney forecasts" to scare people into voting to stay in the EU.
Former chancellors Lord Lamont and Lord Lawson and ex-Tory leaders Iain Duncan Smith and Lord Howard said "startling dishonesty" had been displayed.
They said George Osborne's warning of spending cuts and tax rises after a Leave vote was "born of desperation".
Remain dismissed "yet more fantasy economics from the Leave campaign".
Prime Minister David Cameron said: "It is deeply concerning that the Leave campaign is criticising the independent Bank of England.
"We should listen to experts when they warn us of the dangers to our economy of leaving the European Union."
Elsewhere in the EU referendum debate:
Leaders of 10 of the UK's biggest city councils said leaving the EU would be "a serious threat to our local economies"
Shadow chancellor John McDonnell and former prime minister Gordon Brown will say Labour could secure an extra £35bn in EU funding if the UK votes Remain
Leave campaigners Boris Johnson, Michael Gove and Gisela Stuart have challenged the government to confirm it will veto Turkish membership of the EU and block the extension of visa-free travel to Turkey
Former Attorney General Dominic Grieve told Newsnight that Vote Leave's blueprint for exiting the EU would lead to a "chaotic departure"
Past and present bosses of consumer goods giant Unilever have said the firm would be "negatively impacted" by Brexit
Bank of England Governor Mark Carney has sent an angry response to a senior Vote Leave campaigner after being warned about rules banning "any public comment" in the run up to the referendum
The Leave campaign has faced a string of warnings from the government and financial bodies about the implications of a vote to leave the EU on 23 June.
The Treasury has claimed a Leave vote would tip the UK into a year-long recession, while Bank of England governor Mark Carney has said the risks of leaving "could possibly include a technical recession".
Hitting back, the four Conservatives said: "There has been startling dishonesty in the economic debate, with a woeful failure on the part of the Bank of England, the Treasury and other official sources to present a fair and balanced analysis.
"They have been peddling phoney forecasts and scare stories to back up the attempts of David Cameron and George Osborne to frighten the electorate into voting Remain."
They said the main risk for the UK was remaining "locked to a doomed eurozone".
Lord Howard told BBC Breakfast there were "only three facts in this debate".
"Number one, if we leave we won't have to pay billions of pounds into the coffers of the EU. Number two, we'll have control over our immigration again. And number three, our Parliament will not be subordinate to the European Court of Justice."
He said, "Everything else is guesswork."
Asked whether this meant his prediction of a brighter economic future for Britain outside the EU was based on guesswork, he said it did, but said that the assumptions underlying pro-Brexit forecasts were "much more likely to be right".
'Irreversible' step
On Wednesday, Mr Osborne sparked anger among his Leave-backing colleagues when, alongside his Labour predecessor Alistair Darling, he said an emergency Budget would be needed if the UK voted Out.
He listed examples of the measures that could be required including hikes to income tax and cuts to the NHS, saying leaving the EU would be an "irreversible" step causing "financial instability" and leaving the UK "with no economic plan".
This prompted 65 MPs to sign a letter claiming the chancellor's position would be "untenable" if he tried to implement such measures.
In a letter to the Daily Telegraph on Thursday, the four senior Conservatives said Mr Osborne's warning was "nothing more than ludicrous scaremongering born of desperation".
They added: "No chancellor would seriously propose any such thing."
But a spokesman for the Britain Stronger in Europe campaign said: "This is yet more fantasy economics from the Leave campaign.
"The reason they don't want to listen to economic experts is because they are all agreed that leaving the EU would wreck our economy and hammer family finances.
"On 23 June, we can put our faith in economic experts across the globe who believe our economy is stronger in Europe or take a leap in the dark with the Leave campaign."