North West politicians clash in lively EU debate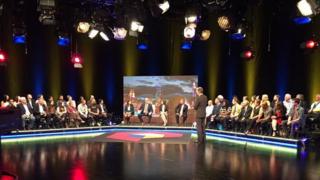 Politicians from across the North West locked horns in a fiery debate about the forthcoming EU referendum.
Before a studio audience, Remain was represented by Wigan Labour MP Lisa Nandy and Janet Beer, Liverpool University's vice-chancellor.
The Leave team were represented by Ribble Valley Tory MP Nigel Evans and UKIP deputy leader Paul Nuttall.
The NHS, education and immigration were some of the liveliest areas of debate, which will air on BBC One on Sunday.
How the panel lined up
Lisa Nandy, Labour MP for Wigan - Remain
Paul Nuttall, UKIP deputy leader - Leave
Janet Beer, University of Liverpool vice-chancellor - Remain
Nigel Evans, Conservative MP for Ribble Valley - Leave
Merseyside-born Mr Nuttall, who is also a North West MEP, was challenged about the amount of investment the EU brings to the region.
He replied: "If you go round Liverpool and Manchester you see signs everywhere saying 'thank the EU for this and thank the EU for that'. It's not the EU's money - it's our money."
He claimed for every £2.88 Merseyside contributes to the EU, the region received a return of just £1 in investment.
But Labour MP Ms Nandy lambasted Mr Nuttall's comments as "rubbish", and championed what she said was the positive influence the EU had on protecting workers' rights.
Touching on immigration, Mr Evans, a Conservative, said Britain should be looking to the whole world to bring in the best skills, and "not just 27 other countries".
EU referendum issues guide: Explore the arguments
Other subjects that arose during the debate included the NHS and education.
Ms Beer, a professor of English literature and a Remain supporter, said universities benefited from research funding handed down from the EU.
Ms Nandy was also asked if the Labour party was doing enough to put across its position on Europe.
'Really useful'
She said: "We've got a lot of work to do to convince people. We haven't heard enough about the positive case."
After the debate, James Maxwell, 19, of Liverpool, said: "It was good to hear views from both sides. But I'm quite stubborn in terms of which way I'm going to vote, so it hasn't changed my own view."
Eighteen-year-old Eleanor Foxford, of Hale in Cheshire, added: "As young people, we don't get a lot of political education at school so the panellists were really good to listen to."
Better In or Out? A BBC North West Tonight Referendum Special will be shown at 22.35 on BBC One in the North West