EU referendum: Voter registration deadline passes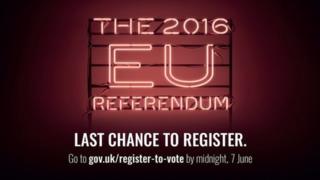 The deadline for registering to vote in the referendum on whether the UK should remain in the EU has now passed.
However, the voter registration website suffered technical problems late on Tuesday evening, prompting calls for a deadline extension.
But a government source told the BBC the voter registration website was still open and accepting registrations as of 00:45 BST on Wednesday.
The Cabinet Office said the issue had been caused by "unprecedented demand".
Before the deadline, the Electoral Commission said 1.65 million people had applied for a vote since a campaign began last month.
However, this also meant that millions had yet to sign up for the referendum on 23 June.
The BBC's Newsnight editor Ian Katz tweeted that traffic to the site peaked at 22.15 BST when some 50,000 people were trying to register - making it subsequently crash.
A number of users, including some on Twitter, reported a page displaying the message "504 Gateway Time-out" instead of the online registration form.
Labour leader Jeremy Corbyn said the voter registration deadline should be extended following the website problems.
And Labour MPs Toby Perkins and Yvette Cooper also called for an extension. "People can't be denied right to vote because computer says no," Ms Cooper said on Twitter.
Their calls were echoed by Lib Dem Leader Tim Farron, who said the registration problems were "a shambles the government has presided over and people must be given an extra day to exercise their democratic right".
In other developments with 15 days to go before the UK decides the UK's future in Europe:
Those eligible to cast a vote - which include British or Irish citizens living in the UK who are 18 or over and Citizens of Commonwealth countries who are 18 or over and who have leave to remain in the UK - have to be on the electoral register to actually do so.
Anyone living in the UK who registered to vote ahead of last year's general election or last month's elections in England, Scotland, Wales and Northern Ireland did not need to re-register if they still lived at the same address. If they had since moved, they had to re-register.
To apply to vote by proxy, people need to complete a separate application form, to be returned by 17:00 BST on 15 June.
---
Who is eligible to vote in the EU referendum
British or Irish citizens living in the UK who are 18 or over
Citizens of Commonwealth countries who are 18 or over and who have leave to remain in the UK
British citizens living overseas who have been registered to vote in the UK in the last 15 years
Irish citizens born in Northern Ireland now living overseas
Irish citizens living overseas who have been registered to vote in Northern Ireland in the past 15 years
---
The Electoral Commission said 226,000 applications to register were received on Monday - the second highest single day's total since electronic registration was introduced in 2014.
Its communications director Alex Robertson said there had been an "awful lot" of interest in signing up, with 150,000 of Monday's applications coming from people aged under 35.
The number of applications does not necessarily equate to the number of people being registered, as some may come from people who are already signed up to vote.
The Electoral Commission said that its most recent estimate, from 2014, suggested 7.5 million were not correctly registered despite being eligible to vote.
While more than 485,000 people applied to register to vote on deadline day ahead of last year's general election, the Electoral Commission said tens of thousands of others also missed out.
Levels of turnout - the number of people who actually vote - is likely to be crucial to the outcome of the referendum, with both sides trying to mobilise their supporters and to warn people of the consequences of staying at home on the big day.
The Electoral Commission said levels of awareness about the referendum had increased considerably in recent weeks.
But the Electoral Reform Society said its research suggested only one in four voters felt "well" or "very well" informed about the impending vote while 22% of people canvassed in late May had had no contact from anyone about the referendum.
It called on both sides to focus on the "real issues at stake rather than personality politics, party spats, and name-calling".
Leave campaigners, meanwhile, have raised concerns that people from other EU countries - who are not entitled to vote - have been sent polling cards.
In a letter to the commission, Tory MP Bernard Jenkin, chairman of the Public Administration Select Committee, called for it to make a statement warning non-UK citizens they faced possible jail terms if they tried to vote.
Asked about the reports, Mr Robertson said some polling cards had been wrongly sent out but they would not entitle people to vote.