EU referendum debate: Salmond eyes next referendum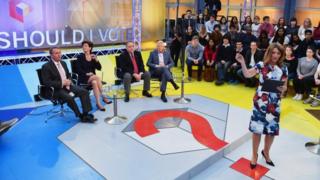 It was lively. It was feisty. And that was just the audience.
The BBC referendum debate gathered together 18 to 29-year-olds from all over the UK to hear four panellists, the youngest of whom - 54-year-old Liam Fox - was a quarter of a century older than the oldest member of the audience.
But the most striking contribution came from 60-something Alex Salmond.
The former first minister of Scotland didn't just want to talk about this referendum, but the next one.
He reminded us that the SNP would see a vote to leave the EU as one of the material changes in politics that would almost certainly lead to a new vote on Scottish independence.
'Against our will'
He denied that another referendum would be "unwanted" - not only would the Scottish people be likely to demand it and probably vote "Yes", but it would have the democratic backing of the Scottish Parliament - where the SNP and the Scottish Greens would combine to bring it about.
Current First Minister Nicola Sturgeon has been wary about putting a timescale on a second referendum - it's privately thought that she would wait until support for independence reached about 60% in the polls.
But her predecessor, Mr Salmond, was emphatic: "If England drags Scotland out of the EU against our will", then referendum number two should be held within two years.
In other words, during the period when the UK government would be tied up in negotiations to leave the EU.
Mr Salmond also denounced what he saw as "scaremongering" in the Remain camp and called for an injection of idealism.
But he could be seen as indulging in a degree of scaremongering himself - effectively telling English as well as Scottish Conservative and UKIP voters that if they cast their ballot for Leave, the future of the UK is at stake. And soon.
In the process he is putting huge pressure on Ms Sturgeon, who would rather get this referendum out of the way before planning for another.
Leave campaigner and former Conservative Defence Secretary Liam Fox called for the former SNP leader to accept the previous Scottish referendum was a "once in a lifetime" vote.
Away from the constitutional wrangling, the audience asked questions on jobs and house prices and clashed with each other on the issue of immigration and the freedom to travel and work abroad.
Voters' views on those issues will decide whether we stay or leave the EU - and in turn just, just possibly, whether the UK stays united too.