Reality Check: It's EU referendum debate Bingo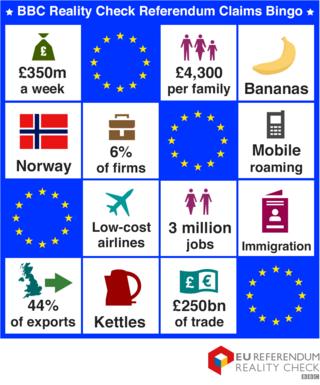 As a special treat for the EU referendum debates, the Reality Check team brings you EU claim Bingo.
The first of the BBC's big debates ahead of the EU Referendum takes place in Glasgow on 26 May at 8pm.
You can watch it live on BBC1 or listen in on Radio 5Live.
This debate will be aimed at younger voters, and will be in front of an audience of 18 to 29 year olds.
Each time a participant mentions one of the things in the grid above you get to check it off.
And if you want to find out more about the topics on the card, you can follow the links below.
---
Read more: The facts behind claims in the EU debate
---