EU debate dominated by men, Shirley Williams says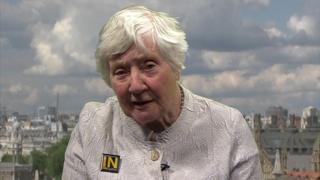 The EU referendum debate has been dominated by male voices so far, with "almost nothing" from women, Baroness Williams says.
The Lib Dem grandee told the BBC the lack of female voices was "appalling".
She also criticised the focus on high-profile Conservative figures such as Boris Johnson and George Osborne and said competing economic forecasts were leaving people in "huge confusion".
The UK's EU referendum takes place on 23 June.
Live: Follow the latest EU referendum debate
In a speech at the National Liberal Club, Baroness Williams said: "The EU debate has turned into a conversation between two white middle-aged gentlemen on one side and two white middle-aged gentlemen on the other.
"It is a very private debate."
On Monday, three of the most prominent women on the Remain campaign side - Scottish First Minister Nicola Sturgeon, Plaid Cymru leader Leanne Wood and Green MP Caroline Lucas - held a joint press conference where they said the EU had been vital in securing maternity and paternity rights as well as protecting people at work.
Leave campaigners including Employment Minister Priti Patel, however, have likened their campaign to that of suffragettes, saying they were fighting the "same cause" to protect "our democratic freedom".
But Baroness Williams, who is backing a vote to Remain in the EU, told the BBC the conversations so far had been "dominated on both sides by people mostly talking about economics".
"We really haven't talked much about the prospects of peace breaking down," she said.
"We haven't talked much about [Russian President Vladimir] Putin.
"We haven't talked much about the issues of nuclear proliferation and so forth.
"We're stuck very much to comparisons between one set of figures and another set of figures which leaves the public feeling that they're sort of in a huge confusion."