Osborne: Brexit will put 20,000 Welsh jobs at risk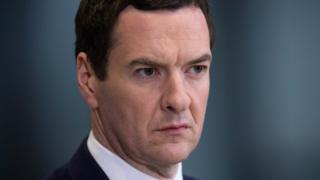 More than 20,000 jobs in Wales could be lost within two years if Britain leaves the EU, Chancellor George Osborne has claimed.
A new Treasury analysis of the implications of "Brexit" suggests half a million jobs could go, including 24,000 in Wales.
Vote Leave's Iain Duncan Smith said the analysis was unfair and biased.
Meanwhile Labour's Carwyn Jones and Plaid Cymru's Leanne Wood have jointly appealed for a vote to stay in the EU.
Mr Osborne said: "The people of Wales and across Britain have worked so hard to get our country back on track.
"Do we want to throw it all away?"
£2bn 'shock'
The Treasury analysis claimed that the impact of the shock by 2018 could be equivalent to a £2bn reduction to the size of the Welsh economy.
It said Brexit could cause unemployment across all age groups in Wales to rise by around 24,000 while youth unemployment could rise by 3,000.
Mr Osborne, campaigning for the UK to remain in the EU, said that was the "lower end of the estimates", claiming as many as 800,000 British jobs could be lost in total.
The analysis is based on the assumption that the UK would become "less open to trade and investment" outside the EU because of the uncertainty and volatility caused by a vote to leave.
It added that house prices could be £20,000 lower by 2018 in Wales than if the UK had voted to remain, assuming that prices in the region would grow in line with forecasts from the Office of Budget Responsibility if the UK stays in the EU.
Former cabinet minister and leave campaigner Iain Duncan Smith said the Treasury analysis was unfair and biased, ignoring all the "upsides" from leaving.
'Scaremongering'
A spokesman for Vote Leave Cymru said: "This is all getting rather desperate, and Welsh voters will see through this statement for what it is - scaremongering.
"These politically driven statements are transparent blackmail tactics. Ask yourself this, if a Vote to Leave really presented such a clear and present danger to Wales and the UK as a whole wasn't it deeply irresponsible of the government to put this to a public vote in the first place?"
Meanwhile, First Minister Mr Jones and Plaid Cymru leader Ms Wood have made a joint appeal for voters to back staying in the EU.
The statement comes despite the tension over the tied Senedd vote over which of the two leaders should take the helm of government in Wales.
Labour and Plaid Cymru later came to an agreement that allowed Mr Jones to be reinstated as first minister.
'Collaboration'
Mr Jones and Ms Wood said both their parties "will continue to work together in the spirit of constructive collaboration to promote the benefits of EU membership for Wales and to campaign for Remain".
"Leaving the EU would risk our hard-won gains including rights at the workplace, access for businesses to the single market and would diminish our contribution to global challenges such as climate change and conflict resolution."
Ms Wood also joined Scotland's First Minister Nicola Sturgeon and Green MP Caroline Lucas at Westminster on Monday to urge people with "progressive values" to back the UK's continued membership of the union.
Referring to the Labour-Plaid statement, UKIP Wales leader and leave campaigner Nathan Gill said: "The establishment of both parties gathering together to tell us how to vote in this referendum, I don't think that is going to have much sway on people."
He said it was for voters to decide "whether or not they believe that Britain is better off making its own law with democracy, where if we don't like what our politicians are doing we can sack them."
"I still cannot get my head around the nationalist party for Wales wanting to be governed from Brussels. It does not make any sense. It's an oxymoron," Mr Gill added.
"You cannot be independent within the EU."