EU referendum: A battle between the haves and have-nots?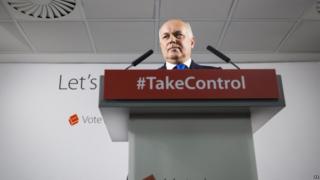 Better for the rich, worse for the poor. Iain Duncan Smith's argument suggests what the Leave campaign has, and what it has not.
Its advocates accept they haven't and won't get the backing of the economic establishment, the foreign policy establishment, well in fact, pretty much the whole establishment.
Day after day, Remainers pound them with a lengthening roll call of their influential backers.
What the Out campaign does have, however, is a powerful persuasion tool that might appeal to voters' most sensitive sentiments - public worry that European immigration has squeezed services and suppressed wages.
There have been divisions among those who want to leave over how much to campaign on immigration. Some Tories have been fearful of risking a xenophobic tone.
But now Mr Duncan Smith is making a more nuanced case that many of them believe, that the benefits of the EU favour the wealthy, and the impacts of the institution leave others behind.
But Outers also think linking immigration to a strain on schools and hospitals is their best shot at winning the referendum. Private polling I've seen suggests plainly the less well off you are, the more likely you are to want to leave the EU. Maybe the referendum really will become an argument between the haves and have-nots.