MPs criticise government over European Commission fines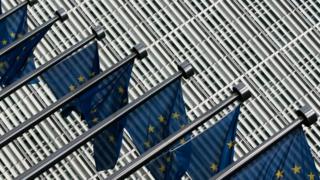 Whitehall departments have been criticised for paying fines of hundreds of millions of pounds to the European Commission because they are not spending EU funds properly.
MPs said penalties of at least £650m had been paid in the past decade and departments had shown a "distinct lack of urgency" in tackling the problem.
Departments had caused extra complexity in the EU funding process, they added.
The Treasury said it had made "real progress" on allocating EU funds.
'Extra complexity'
The Commons Public Accounts Committee (PAC) looked at how how UK public bodies spent EU funds between 2005 and 2015.
Much of the penalties related to the Common Agricultural Policy (CAP), the EU's complex system of agricultural subsidies.
The committee said the equivalent of £2.70 in every £100 of CAP funding was returned in fines, giving the UK the sixth-worst record of the 28 EU member states.
This compared with 90p for Lithuania, 20p for Ireland and just 10p for Estonia, Germany, Latvia and Austria.
In its evidence to the committee the European Commission had said its funding programmes could be complex, "but UK departments sometimes add their own layer of complexity", the report said.
In particular, the Department for Environment, Food and Rural Affairs had chosen to implement the most complex payment system available in 2005.
'Woken up'
The Department for Communities and Local Government, meanwhile, reported an £8.1m loss due to "ineligible payments and procurement" from the European Regional Development Fund.
The PAC said the government "only seemed to have woken up to this problem recently" and urged the Treasury to take the lead in ironing out problems.
It said not enough was being done to share best practice between departments or to learn from other EU member states.
The report also said the private sector and universities in the UK had a good record in securing EU funding, urging the government to learn from them.
Campaigners for an EU exit seized on the report, saying a vote to leave on 23 June was "the only way to get out of this racket".
Vote Leave chief executive Matthew Elliott said EU funding was "laden with strict rules and conditions", adding: "Even worse, the EU often fines us if we don't do exactly what Brussels says."
PAC chairwoman Meg Hillier said: "Government inaction on EU penalties is costing taxpayers dear. Money intended to support projects and programmes in the UK is instead being lost.
"The apparent lack of practical concern about this fact until recently will anger many people, whatever their views on Britain's EU membership."
A Treasury spokesman said: "Our local communities, farmers and world-leading universities are better off as a result of EU funding, and we're committed to ensuring this money is spent in the most effective way possible.
"We have made real progress to ensure every penny of EU funding gets to where it's needed, including by reducing agricultural penalties by almost two-thirds since 2005, and leading the way in Europe to slash regulation and other administrative burdens."