Reality Check: Has the EU reduced pollution in the UK?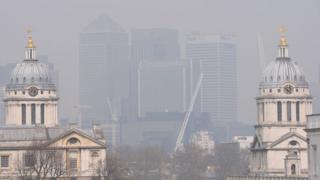 Scotland's First Minister says that co-ordinated action within the EU had been responsible for cutting emissions of dangerous pollutants.
In her speech on 29 February, Nicola Sturgeon said: "European decisions helped us to reduce sulphur dioxide emissions by almost nine tenths in the last four decades. Nitrogen oxide levels have decreased by two thirds in Scotland since 1990… Joint action in this area has almost certainly, without a word of exaggeration, saved tens of thousands of lives."
It's true that emissions have fallen dramatically. Sulphur dioxide emissions across the UK are down by 95% since 1970 (Source: Defra). And in Scotland, emissions of nitrogen oxides had fallen to 33% of their 1990 level by 2013 (Source: National Atmospheric Emissions Inventory).
It's also true that the European Union has been at the forefront of setting international targets to lower emissions through a series of measures including the National Emissions Ceiling Directive which was agreed in 2001.
It could be argued that emissions would have fallen anyway without the intervention of the EU. Many of the cuts have been made possible by technology change and there is a UN Convention on Long-Range Transboundary Air Pollution (CLRTAP), which covers EU and non-EU states.
But it's the EU that has set the legal framework for the UK's emission targets, and the EU also sets environmental standards for goods which have been used to drive emissions down.
Reality Check verdict: EU laws have cut pollution but that might have happened anyway.
---
Read more: The facts behind claims in the EU debate
---