Reality Check: How many UK businesses trade with the EU?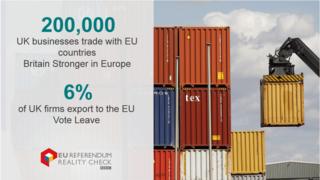 In recent days, we've seen two claims from opposite sides of the EU referendum debate about how many UK businesses trade with the EU.
Britain Stronger in Europe says: "Over 200,000 UK businesses trade with EU countries. Leaving would hit small and large UK businesses."
Vote Leave says: "Only 6% of UK firms export to the UK, yet all have to abide by EU regulations on their business."
These two claims are designed to suggest opposite messages:
Britain Stronger in Europe wants you to think that lots of UK businesses trade with Europe
Vote Leave wants you to think it's only a small proportion
Can both the numbers be correct?
In fact, the Vote Leave figure suggests a higher number than Britain Stronger in Europe.
There are no official figures for the total number of companies that export to and import from the EU. Both numbers are estimates.
Britain Stronger in Europe points to a written parliamentary answer from 2012, which suggested almost 200,000 companies traded goods with the EU, plus a further unspecified number who traded in services.
HM Revenue & Customs says this figure is derived from their day-to-day activities, such as data collected through the VAT return system.
Vote Leave's 6% figure comes from a report by Business for Britain, which looked at the proportion of VAT-registered companies that submitted what are called EC sales lists to the government.
In 2012 it was just over 4%, but they've allowed an extra margin for any increase since then.
The total number of businesses in the country is 5.4 million, according to statistics from the Department for Business, Innovation and Skills.
So, if Vote Leave's 6% estimate is right, that would suggest 324,000 exporting companies: considerably higher than Britain Stronger in Europe's "over 200,000", a figure which includes importers as well as exporters.
Reality Check verdict: It looks in this case as though one side or the other, or possibly both, has been too conservative.
---
Read more: The facts behind claims in the EU debate
---